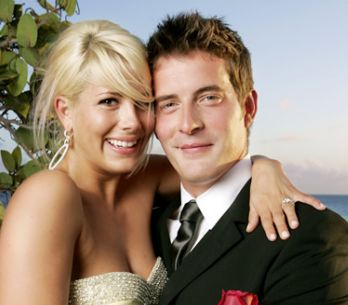 It's been a scary and heartbreaking week for Shayne Lamas, who captured Bachelor Matt Grant's heart back in 2008 during the show's 12th season. Shayne, who split with Matt just weeks after their proposal aired, ended up marrying Nik Richie, who runs the website TheDirty.com.
On February 9, she collapsed at home and suffered a miscarriage of their second child. She has been in the hospital ever since, and, according to her husband, barely escaped death on Valentine's Day.
"My wife is a true fighter. Her heart gave out on Valentine's Day and we had to start the rehabilitation process all over again," Nik wrote in a blog post.
According to a statement Shayne's father, actor Lorenzo Lamas, issued to Us Weekly on February 10, Shayne was not comatose, like TMZ had been reporting.
"She is not in a coma, however she did miscarry the child she was carrying," the statement read. "We are so very grateful to the hospital personnel and the doctors who saved her life last night. Shayne is aware of her condition and that her family and her husband are here with her and love her so much. She will be remaining in the hospital until her doctors determine that she can be released."
Nik has been keeping fans updated on Shayne's progress through his Twitter account. Days ago he revealed that Shayne is lucky to be alive.
"I'm being told by doctor. It's a miracle Shayne is alive. Only 5% of people survive this surgery because of massive blood loss," he tweeted. He later provided more details on his Instagram account, giving more hints at just how dire Shayne's condition actually is.
"Shayne is breathing on her now and doing better, we have high hopes for a speedy recovery," he wrote in this post from Wednesday. 
Oddly, no one from the 'Bachelor' franchise has commented on Shayne's medical emergency. The Ashley sends Shayne and her family wishes for a speedy recovery!
UPDATE: Shayne has left the hospital, according to a new blog post by her husband, Nik. In another heartbreaking post,  he writes directly to the baby that Shayne miscarried, whom they named Rex Jagger.
"You saved your mother's life with your passing and I will never forget how much this means to me, R.J," Nik wrote. "In family, we sacrifice for each other. You gave your life for us. You showed me how to love."
(Photo: ABC)