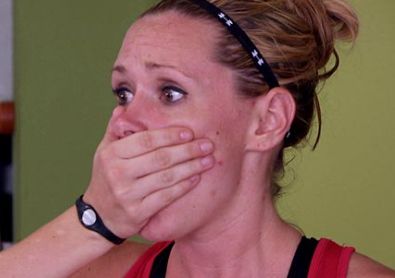 She's already put up with plenty of crying, whining and childish behavior during her days on MTV's The Challenge, so Paula Meronek should have no problem dealing with her next big 'challenge': parenthood.
Paula, who has basically starred on every single 'Challenge' since the show began, announced today that she is expecting a baby with her fiance Jack Berkert. (The couple became engaged over Christmas last year.)
She posted a sonogram photo of the baby boy to her Instagram account, along with a note to her fans.
"Ok everyone…just wanted to officially announce that @jackbeckert and I are expecting the arrival of this lil guy in the beginning of July…yes that is correct!!! #imgonnabeamama #itsaboy #ourlittlepeanut #soproud #soblessed"
Paula's pregnancy may mean the end of her 'Challenge' days. She's participated in 10 seasons, and snagged her second career win on the the most reason season, "Rivals II."
Seriously, can 'The Challenge' survive without its trademark Paula drama?! The next season will take place in Montevideo, Uruguay and Paula is not on the rumored cast list that The Ashley posted back in October. However, one of these girls will surely be stepping up to take Paula's place as the 'Challenge' drama queen!
Congrats to Paula!
(Photo: MTV)