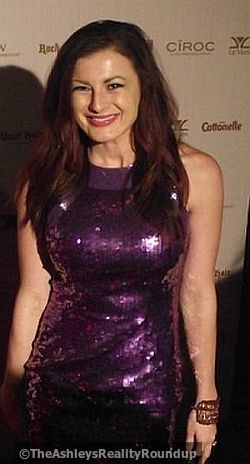 Catfight alert!
Amazing Race contestant Rachel Reilly got nasty when discussing blond country singers Jennifer Wayne and Caroline Cutbirth, one of the teams she and husband Brendan Villegas competed against on the current 'Amazing Race All-Stars' season.
In an exclusive interview with The Ashley at Thursday night's OK! Magazine Pre-Oscar Party, Rachel held nothing back when discussing why she didn't like the blond bombshells.
"The country singers, I don't even know why they got asked back," she told The Ashley. "The last time [they were on the show] all they did was flirt with all the guys and follow them around. It's like, their trick is to stick their boobs out and it gets them ahead in the game."
Rachel confirmed that Jennifer and Caroline did use their, um, ample assets to help further them in 'All-Stars.'
"They [were] up to their old tricks again," she said. "It got them far their first time around."
Some fans were less-than-thrilled when Rachel and Brendan were announced as part of the 'All-Stars' cast. The two seem to make their back to our TV screens every year or so. They previously starred on several seasons of Big Brother, in addition to their stint on Season 20 of 'The Amazing Race.' (Not to mention their made-for-TV David Tutera wedding special back in 2012!)
Rachel revealed to The Ashley that, while she doesn't know if she will do another season of 'The Amazing Race,' she and Brendan will be coming back to our TVs–again.
"Actually there is a TV show in the works," she said. "I can't really talk about it too much but I tell all my fans to keep your eye out for Rachel and Brendan. You haven't seen the last of us!"
Dun.Dun.Dun.