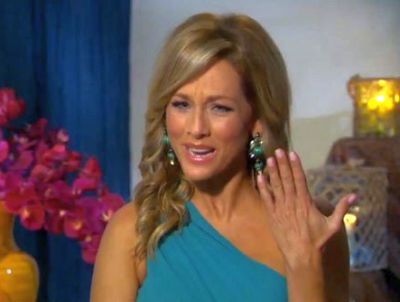 WARNING: SPOILERS BELOW!
For once Chris Harrison was actually telling the truth: Tonight's season finale of The Bachelor was, indeed, the most shocking ever. Although Juan Pablo Galavis was hardly a fan favorite going into tonight's finale, his actions with finalist Clare Crawley, followed by his rude behavior at the "After the Final Rose" taping (more on all that later!), Juan Pablo has managed to snag the spot of Most Hated Bachelor away from Jake Pavelka!
'Bachelor' fans were left with many questions after tonight's finale, but one is particularly nagging: What did Juan Pablo tell Clare during their final date that she felt was "disrespectful"?
After a romantical helicopter ride, Juan Pablo found himself alone with Clare without any camera or audio equipment around. Clare assumed that he would use the time to talk about his feelings for her. Instead, she claims he made a sexual comment she found so demeaning that she wouldn't even repeat it on television.
But what did he say, exactly? Clare revealed half of JP's sleazy comments during an on-camera confessional.
"He leaned over and then he said, 'I feel like we don't know each other. You don't know me, and I don't know you,'" she said. "He chooses not to say something romantic, but that he loved hooking up with me. What he said and the words he used, I can't even repeat it."
After he reveals that she is not his chosen one during the dramatic proposal scene the next day, Clare decided to let the world know what it was that JP had said to her in the helicopter.
"Don't tell me you love f**ing me," she sobbed to the camera right after giving Juan Pablo a piece of her mind. "Don't tell me that. That to me is not a man."
(Does that mean they did get it on in Vietnam, despite her previous denial? Or perhaps she was talking about their excursions in the Fantasy Suite.)
Be sure to check back tomorrow for The Ashley's full recap of this insane finale!
(Photo: ABC)