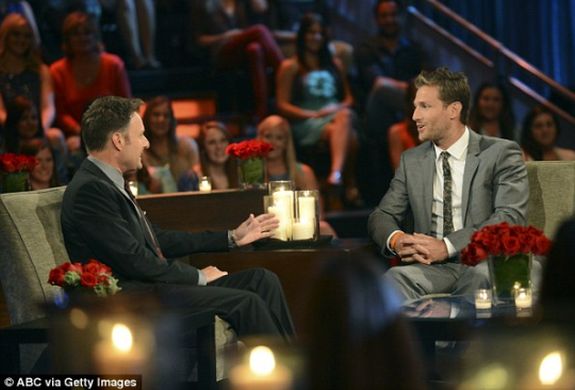 Bachelor host Chris Harrison held nothing back when he sat down with TV Guide to discuss Monday night's shocking 'Bachelor' finale. Chris, who was extremely frustrated with star Juan Pablo Galavis' behavior during the "After the Final Rose" segment, revealed that, after dealing with Juan Pablo's cockiness and um, interesting, personality all season, his finale actions didn't surprise him.
"I didn't know if there was some sort of act or charade going on or like a revenge thing against me or the show," Chris said. "He does this a lot, I've noticed, in life where it's never his fault. He's a controlling person and he was never able to let go. He created this battle in his mind and it manifested itself last night in a really bizarre manner."
This "controlling" aspect of Juan Pablo's personality may trickle down into his relationship with Nikki Ferrell, according to Chris.
"When it started and I interviewed her first she had hope in her eyes and she was happy," Chris said. "When she was sitting there with him I saw her body language change, her shoulders flop, her eyes get sad and I felt horrible."
Chris revealed the strange thing the couple did right after the taping ended.
"The oddest thing in the world was that as soon as it was over, he asked — not in a mean way — but if they were done," Chris said. "And then he got up, grabbed Nikki's hand and they walked out of the studio by themselves. Nobody applauded, nobody booed. He just walked off like two people going to the bathroom. To me, that summed it all up. It's Juan Pablo's world against the rest of the world and everybody be damned."
Juan Pablo did an interview with People magazine after the finale in which he claims the person we saw on TV wasn't the "real" him. In his recently published blog for People magazine, he reveals how he felt about the experience of being 'The Bachelor.'
"I will always be thankful for the opportunity, but if you asked me to do it again, I would definitely say, 'HELLLLL NOOOOO.'"
Juan Pablo just tweeted that he is disappointed with the version of his blog People chose to publish (following the edits of 'Bachelor' producers), calling it 'very inaccurate.'
Don't worry, Juanny P., "es okay," in a month or two no one will give two craps about you.
(Photo: ABC)