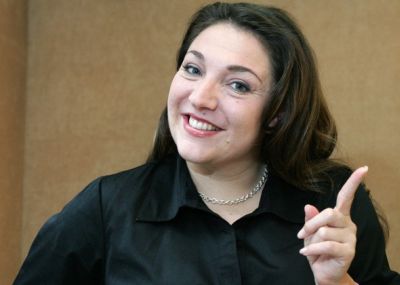 Back in 2010, Supernanny star Jo Frost pulled the plug on her hit show to focus on finding balance in her personal life. The British child-rearing expert suggested that she might like to have a few children of her own, something that she wasn't able to do while filming the demanding series.
Four years later, it looks like Jo is bringing her tantrum-trumping tactics back to American television. In an new interview with The TV Page, Jo says that she has secured a deal to do a show similar to her UK daytime family talk show here in the USA.
"It is a strong possibility that I could end up doing that here," she told the site of her talk show, which focuses on an entire family rather than just kids. "The sky is the limit with respect to that being a possibility…I would love to do it. There is still a need for families to be able to connect and communicate."
Although Jo told the New York Post back in 2010 that she stopped doing 'Supernanny' so that she could, "date and have a relationship and look at my own future of having a family," she is still unmarried and without children. She does, however, have a steady relationship now.
"[Quitting 'Supernanny' allowed] me to have less of a relentless schedule, which meant that I was able to put down roots here in California and say that I have a home rather than living out of a suitcase," she said. "And, of course, it meant that I could be more committed in my relationship with my partner and have some sort of normalcy when dating. So of course that was fun. We live together now."
Her partner, Darren Jackson, was part of the 'Supernanny' production crew. Jo said that they are considering the idea of adopting children.
"We have those ongoing conversations with my work and in our relationship whether we would adopt and we are both not opposed to doing that," she said. "But we haven't filed any papers."
Jo did not release any details about when the new show would air, except to say that it would likely be on our TV screens "before the end of the year."
She also declined to say which networks were interested but, in The Ashley's opinion, this has "TLC" written all over it!
To read the full interview with Jo, click here!