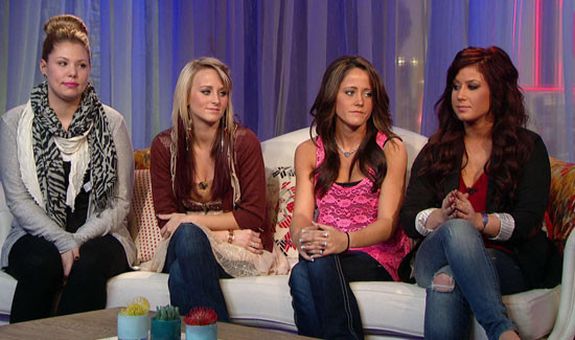 Teen Mom 2 is currently in the middle of its fifth season, and today, Radar Online ran an article stating that the show had been cancelled. According to an insider, "There is no season 6 of Teen Mom 2. Season 5 is the girls' last season."
Of course, this story is a bit confusing, as the girls of 'Teen Mom 2' have been posting photos to their social media accounts that clearly show members of the show's film crew in the background. Why, if the show is being cancelled after the existing episodes air, would there still be camera crews following Chelsea Houska, Kail Lowry, Jenelle Evans and Leah Calvert?
Because Radar only got it half correct.
The Ashley can exclusively reveal what the hell is really going on with 'Teen Mom 2.' She reached out to a member of the show's crew to get the low-down on whether or not the show will continue.
The source tells The Ashley that MTV is planning on doing a Season 5A and Season 5B (similar to how they split the second season of 16 and Pregnant back in 2010.)
"There are going to be 25 episodes total in Season 5, which is just ridiculous," the source said. "It's not because they want to end the show with high ratings for Season 5. The show always has high ratings. It all comes down to money, and adding another official season would mean re-contracting all of the show's workers and the stars."
According to the production source, MTV's money-saving tactic didn't exactly sit well with some of the crew.
"Most people that work on the show just want to get it done with and move on with their lives," the source said. "This is not the easiest show to work on."
The source tells The Ashley that, although he/she didn't know the specifics yet, the show's producers are planning on doing a separate reunion for Season 5B. When that tapes, that may be the final episode for the series.
Some of the things that will be featured on Season 5B include Kail's 22nd birthday and Jenelle's on-going legal issues with her soon-to-be-ex-husband, Courtland Rogers. The girls each posted photos recently that show a film crew capturing the Kodak moments of these events. Also up for review on Season 5B? Chelsea's baby-daddy, Adam Lind's recent car crash and the resulting legal issues.
Are you excited for Season 5B? Sound off in the comments!
UPDATE: Radar's "source" just added something about there being a Season 5A and 5B to their story. Hmm….I wonder where they got that info?
(Photo: MTV)