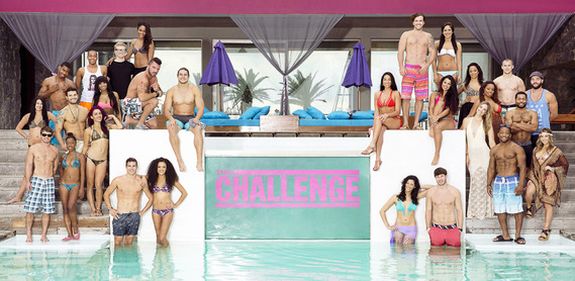 After a months-long hiatus, MTV's The Challenge is coming back– and this time, it's going to be totally different than any other season before it!
Sure, they have assembled basically the same cast of knuckleheads that they have every season: Johnny Bananas, CT Tamburello, Cara Maria, Aneesa…but the premise of this season will be totally different! The Challenge: Free Agents will be the first season ever that will feature no teams or partners– everyone is playing only for themselves.
Here's how it will work: the contestants will still participate in the zany challenges we've come to love. There will be one female and one male winner, each of whom will chose one of their fellow contestants to be sent into the elimination round. That person will compete against another player that is random selecting (via a blind drawing) by the entire group.
"The only way you are safe in this game is to win," host TJ Lavin tells the contestants in the season's trailer.
Back in October, The Ashley reported that the season was being filmed in Uruguay. The cast was seen filming on the roof of the Montevideo World Trade Center on October 22.
Check out the trailer and cast list below. 'The Challenge: Free Agents' starts April 10 at 10 p.m. on MTV!
Anyway, the cast of 'The Challenge: Free Agents' will be:
Brandon Nelson (Fresh Meat II)
Chet Cannon–and his bowties (Real World: Brooklyn)
CT Tamburello (Real World: Paris)
Cohutta Grindstaff (Real World: Sydney)
Dustin Zito (Real World: Las Vegas)
Frank Sweeney (Real World: San Diego)
Johnny Bananas (Again?!!? Anyone else tired of seeing this guy's mug!)
Johnny Reilly (Real World: Portland)
Jordan Wiseley (Real World: Portland)
Leroy Garrett (Real World: Las Vegas)
Preston Charles (Real World: Brooklyn)
Zach Nichols (Real World: San Diego)
And for the ladies…
Aneesa Ferreira (Real World: Chicago…and every single 'Challenge' since)
Camila Nakagawa (Spring Break Challenge)
Cara Maria Sorbello (Fresh Meat II…I mean, what else would Cara be doing other than starring on 'Challenges'?)
Devyn Simone (Real World: Brooklyn…thank goodness because she cracks me up!)
Emilee Fitzpatrick (Real World: Cancun)
Jasmine Reynaud (Real World: Cancun…Ugh.)
Jemmye Carroll (Real World: New Orleans)
Jessica McCain (Real World: Portland)
Jonna Mannion (Real World: Cancun)
And, no, it wasn't an error that Paula Meronek was left off this list. Even though Paula has basically done ever 'Challenge' since the beginning of time, she had to sit this one out because…she's pregnant!
(Photo & Video: MTV)