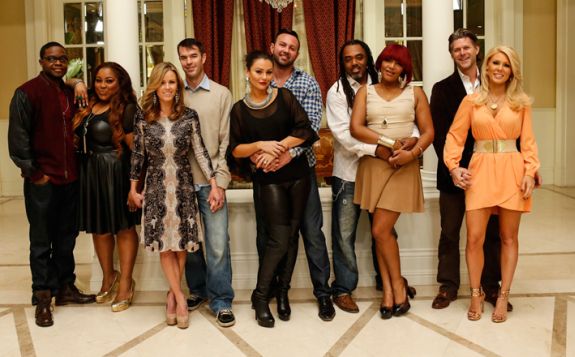 If you've been jonesing to watch celebrities talk about their failing relationships ever since Couples Therapy ended in March, you're in luck! A fresh new stock of celebrities will be submitting themselves to on-camera relationship therapy on the upcoming season of Marriage Boot Camp and, this time, they're all reality stars!
The cast will include five reality TV couples, who, according to the new trailer "will fix their broken relationships the only way they know how—on camera!"
Perhaps the most surprising couple to see on this show is Trista and Ryan Sutter of The Bachelorette. Long toted as the franchise's most successful couple (although that's not really saying much), Trista and Ryan are frequently wheeled out for various 'Bachelor' specials and finales to discuss how happy they are. They are the parents of two young children and recently celebrated their 10 year wedding anniversary with a vow renewal ceremony which was, of course, filmed for reality TV.
"She was in bed with this guy," Ryan says of Trista in the season's trailer. (Excuse me?! This just got juicy…)
Also appearing on this show will be Jenni "JWOWW" Farley and her fiancé Roger Mathews of Jersey Shore and Snooki & JWOWW fame. Jenni is currently pregnant with their first child, which makes their decision to appear on this show especially surprising. (This was most likely filmed before she found out she was pregnant, however.)
"JWOWW is fake, and I can't stand fake people," Roger says in the trailer. (Just a side note, however: Roger never calls his fiancé "JWOWW." The fact that he is calling Jenni that may indicate that he's speaking of her public persona.)
Other participants of 'Marriage Boot Camp: Reality Stars" include Traci Braxton and Kevin Surratt of Braxton Family Values fame, as well as Tanisha Thomas and Clive Muir of Bad Girl's Club. The show's fifth couple will be Gretchen Rossi and Slade Smiley from The Real Housewives of Orange County.
At the end of the season, the participants have to decide if they want to stay in their relationships or move on.
The reality relationship ridiculousness starts on Friday, May 30 on WEtv.
Click below to watch the season's explosive trailer.
(Photo: WEtv)