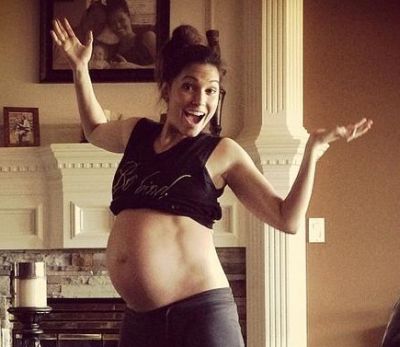 The stork had a little help from the Easter Bunny yesterday, apparently! Former Bachelor star (and Dancing with the Stars winner) Melissa Rycroft gave birth to her second child on Easter Sunday. Melissa and her husband, Ty Strickland, named the baby boy Beckett Thomas. He was born in the afternoon of April 20 and weighed in at 7 lbs. 7 oz.
"This little guy has been teasing us about his arrival for the last month so it is only fitting that he surprise us with his arrival on Easter Sunday," Melissa said in a statement to People.
Melissa and Ty are already the parents of three-year-old Ava.
"He's perfect and beautiful. Ava can't wait for us to bring him home to be able to show us all of the big sister duties she's been practicing," Melissa told the magazine.
'Bachelor' fans are undoubtedly happy to see Melissa end up with a beautiful family. As you may remember, Melissa was dumped on live television by Bachelor star Jason Mesnick, after he proposed to her on the 'Bachelor' Season 13 finale. During the "After the Final Rose" special, Jason revealed that he still had feelings for Molly, the runner-up on his season,and that he was ending his relationship with Melissa to pursue Molly. (It is still, without a doubt, the most shocking moment in 'Bachelor' history!)
In the end, Molly and Jason ended up marrying, and Melissa ended up happy so it all worked out.
Congrats to Melissa and Ty! There will no doubt be a two-page "Meet Our Baby" photo spread in People within the next few weeks, and we can't wait to see Beckett!