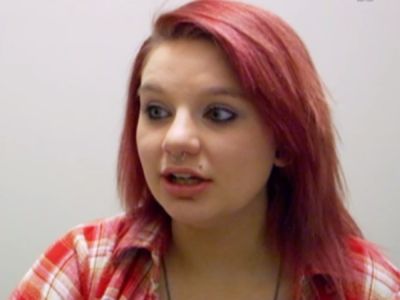 The most recent episode of 16 and Pregnant focused on Millina Kacmar, a Michigan girl who dropped out of high school to get her "rave on." However, the partying stopped once she got pregnant by her boyfriend, Trevor. Millina's episode dealt with a lot of heavy issues. In addition to being 16 and pregnant, Millina had little support from the adults in her life: her own mother was in jail during her pregnancy, her father was unstable and flaky and Trevor's mother, Tina, suffers from a medical condition that causes her to have unexpected seizures.
Anyway, after the episode aired, viewers questioned some of the decisions that Millina made. To help the show's fans understand why she did the things that she did, she took to her YouTube channel, uploading a video in which she answered viewers' frequently asked questions.
The Ashley spoke with Millina to get an update on her life since the episode taped. Her mother is now clean, in rehab and recently met baby Kayden for the first time.
Millina said her life has also changed a great deal since the cameras left.
"Me and Trevor broke up but we're working on things," she told The Ashley, adding that she is pleased that she did the show.
"It was a wonderful experience, it definitely brought my grandma and I closer," she said. "I don't regret doing it. I am getting a lot of messages [from] people who I helped."
Below, The Ashley breaks down what Millina talks about in the video (for those of you who can't watch it because, you know, you're supposed to be working instead of reading this stuff!)
Why did Millina tell Trevor's mom she couldn't be around Kayden?
"I was not telling her she could not be around Kayden," Millina says in the video. "I was telling her that she was not allowed to babysit Kayden alone. If somebody was there supervising it, I had absolutely no problem with it. But she was in the hospital once a week when I was pregnant, so I didn't want to risk anything happening to Kayden…I also told her after Kayden was born that she was more than welcome to come over to my house and she refused."
What's going to happen to Millina's mom?
"She had the opportunity to get out [of rehab] on May 14 but she decided that no, she wanted to stay and finish the program so she will be coming out on June 23," Millina said.
She added that her mom isn't the drug-addicted junkie that was shown in the episode.
"My mom hasn't always done drugs," Millina said. "She hasn't always been the way that people are making her out to be. She actually was a really good mom. She got involved in an abusive relationship and that's actually when her drug use started. But she's taking precautions to not mess up again."
Are Millina and Tina getting along better now?
Unfortunately, there is still a rift between Millina and Trevor's mother.
"Me and Tina are currently fighting right now," Millina said. "She feels that I was the one that made her look bad on the show."
Why did she sign up for '16 and Pregnant'?
"I wanted to show girls how hard it was," she said. "I wanted to make a difference. Even if I made a difference in one girl's life, I still helped. "
Stay tuned for The Ashley's recap of Millina's episode, coming tomorrow!
(To read Maddy Godsey's answers to frequently asked questions about her episode of '16 and Pregnant,' click here!)
(Photo: MTV)