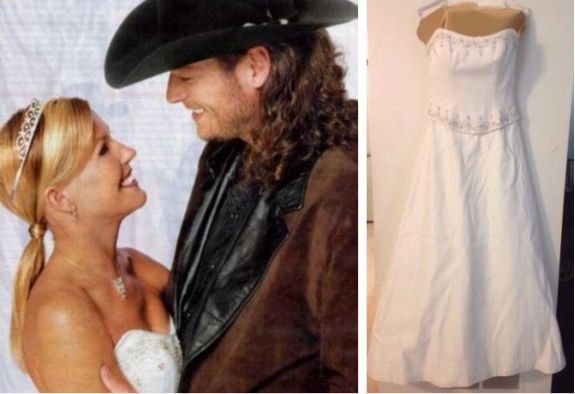 File this under: "Random but interesting"
Blake Shelton often talks about his wife, Miranda Lambert, on The Voice (she's even appeared on the show numerous times.) Few of the show's fans are aware, however, that Blake was actually married once before he said "I do" to Miranda. Blake wed Kaynette Shelton, whom he met when he was only 15 years old, back in 2003. Their marriage ended in divorce after Blake met Miranda.
Kaynette, who is now working as a school teacher in Kansas, is trying to make a couple bucks off of her marriage to the popular 'Voice' coach– by hawking her wedding dress on eBay!
The Kansas-based seller (who we can assume is Kaynette, since the seller is from the same town Kaynette lives in) is trying to sell the size 6 Demetrios wedding gown for $700 on the auction site. The item's description boasts that this is the "actual wedding gown worn by Blake Shelton's first wife, Kaynette Williams, in their wedding."
The listing includes several photos of the strapless, short gown, as well as several photos of Kaynette and Blake at the alter on their wedding day.
"I wanted something simple but still pretty," Kaynette told Country Weekly in 2003 of the designer gown.
It's no surprise that Kaynette is trying to make a buck off of her marriage to Blake. It's been reported that Blake pulled in an astonishing $75 million from April 2013-April 2014!
In their divorce papers, Kaynette accused Blake of being "guilty of inappropriate marital conduct." (He met Miranda while he and Kaynette were still married.) While Blake has never officially confirmed that he cheated on Kaynette with Miranda, the affair was basically confirmed by Miranda during a 2011 interview with Dateline.
"I knew better," she said of her initial relationship with Blake. "Like, this is off limits…I've seen this my whole life —affairs. Of all people to know better, I know better than this."
In  2011, the National Enquirer tracked Kaynette down in Kansas, and she told them why she had moved from her (and Blake's) home state of Oklahoma.
"After Blake and I split up, I moved from Tennessee back to Oklahoma," she said. "But then Blake and Miranda moved there to a neighboring town, and it just felt like Oklahoma wasn't big enough for all of us."
If you're in the market for a cute wedding dress (with random country music/reality TV roots) check out this dress– it's actually pretty cute!
(Photos: eBay)