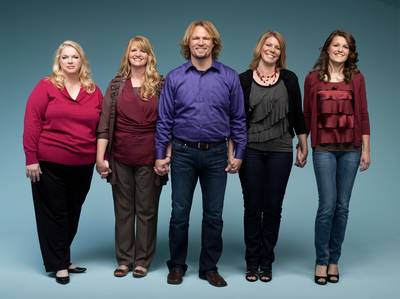 The upcoming fifth season of Sister Wives may finally answer the question the show's fans have been wondering for years: How the heck do these people afford everything?
According to a new press release distributed by TLC, the fifth season will focus on the Brown family's money issues. Over the past four years, we've watched Kody Brown and his wives build four brand-new houses, invest in random business opportunities (who could forget the "let's open a gym" fiasco?) and seemingly support five adults and 17 children without ever going to an actual job.
While each of the Browns makes a sizable income from their participation on 'Sister Wives,' it appears that their reality TV salaries just aren't hacking it these days, and the money problems are causing turmoil in the family.
"This season, tensions are high as the family tries to lock in investors for their fledgling jewelry business," the press release reads. "With  four mortgages and three  kids already in college (with more following fast), pressure to make money is at an all-time high"
As per usual, the Brown women handle the money issues in their own way.
"Robyn is so overwhelmed with the workload, she gives Kody an ultimatum," the network says. (No more kids until he actually gets a real job, perhaps?)
As for Meri, she handles the money issues by deciding to go back to school. Good thing it doesn't cost a bunch of money to go to college…oh, wait.
"I love the idea that you want to go back to college…Robyn's going to freak out though. She needs ya! I need ya!" Kody tells her.
Apparently, Meri had started school when the family was living in Utah, and now that Mariah has left home, Meri decides to pick up her schooling at UNLV, where two of the family's children also go. (Haven't these people ever heard of community college? Geez.)
If you'd like to read more about the Brown family's ways of making money, click here.
Watch Meri discuss her college plans with Kody in the clip below: