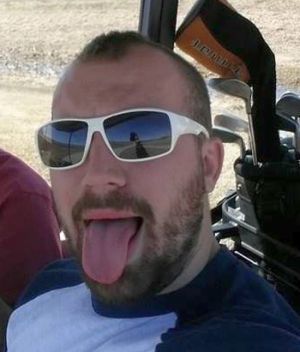 Just over a month and a half after Adam Lind praised his own good behavior while on set at the Teen Mom 2 reunion taping, he has been arrested–again!– for yet another driving-related offense.
Adam, who has been arrested dozens of times in his short adulthood for everything from driving under the influence to burglary (check out The Ashley's book, Teen Mom Confidential to see the complete list of Adam's offenses), was booked into the Minnehaha County jail on Saturday morning, after he was caught driving on a revoked license. Two days later, Adam is still behind bars in South Dakota, and is being held without bond for violating his parole.
(Just FYI– the reason The Ashley is not treating you to Adam's latest mugshot is that the state of South Dakota does not publish mugshots or distribute them publicly. The Ashley has been trying to get Adam's full mugshot collection for years!)
Anyway, this is just Adam's latest behind-the-wheel hi-jink. In February, he was charged with driving with a revoked license, driving with a suspended license, driving an unlicensed vehicle and not having insurance after he caused a serious car crash involving an elderly couple. The crash not only put Adam in the hospital but it set his beloved 2001 Corvette Z06 on fire. Adam was pulled from the wreckage by a bystander. Adam has not yet dealt with the five charges stemming from the crash.
While Adam's on-and-off-again baby momma, Taylor Halbur, addressed Adam's recent arrest by simply writing "Great…" on her Twitter account, Randy Houska, Adam's nemesis (and the father of his ex, Chelsea Houska), poked fun at Adam's latest arrest.
"My belief in karma has been reaffirmed. Again," Randy posted on Sunday.
Although Adam claimed at the Season 5 reunion that he had changed and had put his life of crime behind him in favor of working and fatherhood, it appears that this is not the case. A source told Starcasm that Adam is currently out of work.
"Adam lost his job several weeks ago, which means he may find it difficult to get a work release permit like he has in the past," Starcasm posted.
It's hard to believe there isn't a line of employers just dying to hire a guy with this many arrests. Go figure. Just for the record, Adam has been arrested more times than any other 'Teen Mom 2' star, including Jenelle Evans and Kieffer Delp.
The Ashley will update this story when she has additional information.
UPDATE: Adam has been sprung! He was released from jail yesterday.
(Photo: Facebook)