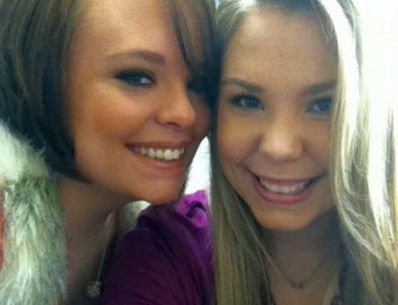 The Teen Mom and Teen Mom 2 worlds will collide this July when 'Teen Mom 2' stars Kail Lowry and Javi Marroquin team up with 'Teen Mom' stars Catelynn Lowell and Tyler Baltierra, all in the name of charity! The girls and their beaus will be co-hosting a charity event for Mom2Mom, with all proceeds from the event going to help the family of Amelie Strzalkowski, a little girl from Michigan that has been fighting a malignant Medulloblastoma brain tumor for years and is currently undergoing chemotherapy.
Kail recently spoke with The Ashley about her decision to take part in the event.
"As soon as I read Amelie's story I lost it," she told The Ashley. "She is such a brave little girl."
Kail and Javi were contacted by a Mom2Mom event organizer who asked if they'd be interested in doing an event.
"We said definitely," Kail said. "We suggested that maybe some of the other ['Teen Mom'] girls would want to do it with us, because we were hoping that would get more people to come out!"
Michigan residents Catelynn and Tyler quickly signed on to attend the event, which will take place in Brighton, Michigan, on July 13.
"The last time I saw Catelynn was [when we taped an episode of] LifeChangers with Dr. Drew [in 2012]," Kail said. "I have actually never met Tyler but it will be fun to meet him and see Catelynn again!"
In addition to the Mom2Mom event activities, Kail will be signing copies of her autobiography, Pride over Pity. The event, which is sponsored by jewelry company The LinkFund, will be held at Ore Creek Mountain Grill & The Golf Club from 9 a.m. until 4 pm.
For more information on the event click here. To read more about the little girl the event is funding, click here.