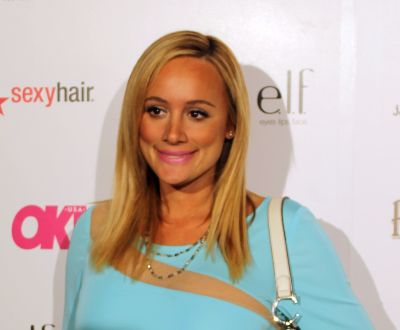 Erica Rose knows a thing or two about the Bachelor franchise. Not only did she compete for the heart of Prince Lorenzo Borghese during the ninth season of The Bachelor, but she also did two stints on Bachelor Pad, making her the perfect person to give The Ashley the scoop on the upcoming 'Bachelor Pad' spin-off, Bachelor in Paradise!
The Ashley chatted with Erica on the red carpet of last week's OK! Magazine So Sexy Party to get the low-down on which former 'Bachelor' and Bachelorette contestants we can expect to see creeping up our television screens, island-style, starting this August.
"I know a few of the people that will almost certainly be on it," Erica told The Ashley. "Jef Holm [will], and I'm pretty sure Clare [Crawley] from Juan Pablo's season is going to be on it. I'd be shocked if they weren't on it."
Jef's former BFF from Emily Maynard's season, Arie Luyendyk Jr., will not be participating in 'Bachelor in Paradise,' however, due to pesky career obligations. (Unlike some of the 'Bachelor' franchise stars, Arie actually has a "real job" outside of doing 'Bachelor' stuff!)
"Arie is not going to be on 'Bachelor in Paradise' because he's doing the X Games at the same time," Erica said.
Arie isn't the only one that won't be on the new show.
"I'm not doing the show," Erica said. "I'm seeing someone now, but also, I feel like I've done enough 'Bachelor Pad' seasons to last me a lifetime!"
Erica is keeping busy, however.
"Right now I'm studying for my bar exam," said the law school grad. "I have a book that I'm working on called Confessions of a Reality Show Princess. We've already shot the cover but it's not finished yet."
She does expect to see Chris Bukowski on the new show, which is why she thinks he was featured on the premiere episode of Andi's season of 'The Bachelorette' trying to "sneak" into the Bachelor Mansion.
"I honestly think he must have had one of the producers in on it because, I know from experience, you can't just sneak up to the house like that," she said. "My opinion is that they were setting it up because he's going to be on 'Bachelor in Paradise' and they wanted people to remember him so they had to bring him in somehow."
Andi did not allow Chris to take part in her season, which Erica says was a mistake on her part.
"I know him personally and he's honestly probably better than a lot of guys in that house!" Erica said. "He was on 'Bachelor Pad 3' with me and we are good friends. He didn't tell me he's was going to do that though!"
UPDATE: 'Bachelor in Paradise' premieres Monday, August 4. ABC recently released some of the cast members that will take part in the show. To see who's been revealed so far, click here.