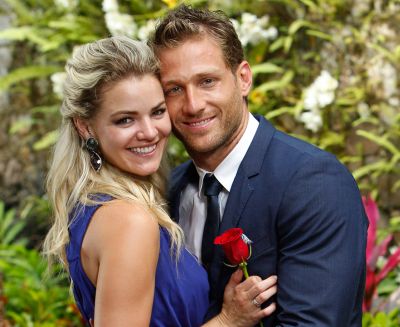 A fresh new season of Couples Therapy is about to premiere! The cast list was released today and, while it is sadly Teen Mom-less for the first time in two seasons, there will be more than enough reality show rejects to deliver ample drama.
According to Reality Steve, however, the cast list is not yet complete and will soon include the addition of Bachelor stars Juan Pablo Galavis and his "beloved" girlfriend Nikki Ferrell.
Ay yi yi, this is not "OK!"
Life & Style reported today that the loathe-worthy 'Bachelor' couple has signed on to film the show, but cannot announce it due to Juan Pablo's contract with ABC, which ends in August. In the cast announcement today, VH-1 hinted that a "mystery couple" will be joining the cast of Season 5.
"Juan Pablo is doing this show because he needs the money," Reality Steve reported. "He has none. And Nikki basically is doing it to follow along – and for the pay obviously."
Apparently, VH-1 pays a pretty penny to get these nitwits to do this show. According to former 'Bachelor' winner Courtney Robertson, she was offered $40,000 to film a season of the show back when she was dating Ben Flajnik. (She turned the offer down.)
The Ashley is thrilled that Juanny P. and Nikki are coming back into our lives. There's very few reality stars she loves to hate more than the 'Pabster! Not only that but the Season 5 cast, which includes adult movie star Jenna Jamison and her boyfriend Ron Wood and Jersey Shore star Deena Cortese and her boyfriend Chris Buckner, is in desperate need of some "star" power. The other couples include some guy from Big Brother and someone from Naughty By Nature. They really seemed to have scraped the bottom of the D-list barrel with this cast.
This heap of reality TV crap premieres September 10 at 9 p.m. on VH-1.
(Photo: ABC)