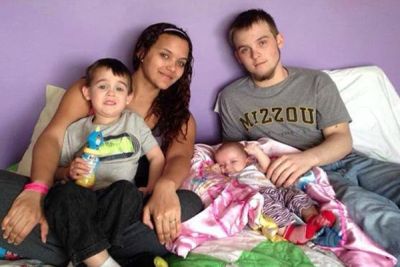 On this week's episode of 16 and Pregnant we met Aleah,  a teenage girl who acts as a stepmom to her boyfriend Shawn's toddler son. She gave birth to her daughter Peyton in December after a high-risk pregnancy due to Aleah's diabetes. The episode marks the first time that the show has ventured into the territory of step-parenthood, and, while the episode appears to have been a hit with the show's fans, it did leave several important questions unanswered.
The Ashley spoke exclusively with Aleah to get the answers to some of the frequently asked questions the show's fans had after watching her episode. Aleah has taken some heavy criticism for some of her and her boyfriend's actions but says that, despite the negative feedback, she is still glad she participated in '16 and Pregnant.'
"I don't regret doing the show," she told The Ashley. "I believe my story could influence a couple of people to try to take preventive measures to not end up in a sticky situation [like we did]."
Here, Aleah answers some of the questions she's been getting asked a lot since her episode aired.
What is the deal with Noah's real mother? Where is she?
While Aleah understands that viewers are curious to know the full story about where the mother of her boyfriend's son is, she said that her episode didn't go into detail about it because she didn't feel it was right to put Noah's birthmom on blast on national television, when she did not sign up to be part of the show.
"[Noah's mom] didn't ask to have her life [story] out in the world, so it's not my place to discuss her in detail," Aleah said.
Did Shawn and Aleah really meet in juvenile detention or did MTV make that up!?
Aleah confirmed that the love story between her and Shawn did, indeed, start in that unlikely place.
"Yes, Shawn and I really met in juvenile," she said. "We were both in there for fighting and we flirted with each other during rec time. And when we got out we started dating and have been together ever since…"
Why did Aleah leave her baby during the episode?
Aleah insists that the back-story behind that scene is not as dramatic as it appeared on the episode, and she did not abandon her baby.