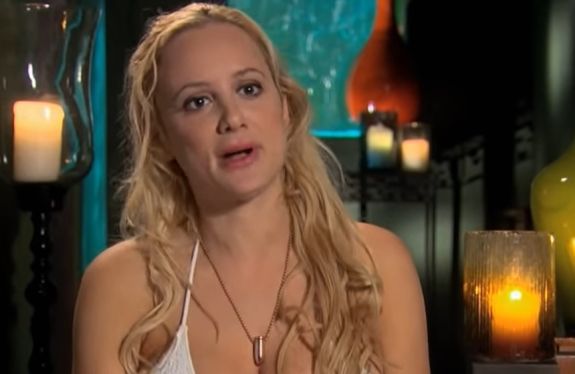 Before there was Bachelor in Paradise, there was Bachelor Pad—which featured former Bachelorette and Bachelor contestants competing on a game show for money. It also featured some extremely problematic moments (especially by 2021 standards).
Erica Rose— who appeared on two of the show's three seasons— recently revealed that she was diagnosed with PTSD after appearing on Season 2 in 2011. In an interview with Jacques Peterson's Unpopular podcast, Erica recounted a particularly "abusive" and "traumatic" game she and the other female contestants were forced to play.
The women were blindfolded and dressed in skimpy bikinis, then lined up with targets painted on their backs. The male contestants were then instructed to throw paint-filled eggs at the woman they felt was least-attractive.
No….really.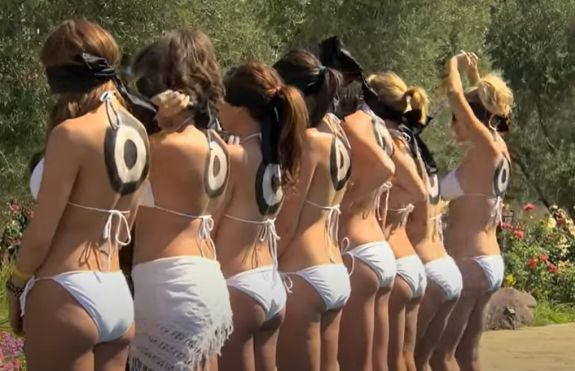 (For the record, the men were forced to endure the same charade, with the ladies throwing eggs at the man they were least-attracted to.)
During the show, some of the men even commented about how uncomfortable they were throwing eggs at the woman they were least-attracted to.
"Most of the questions were pretty obnoxious, but who's the most unattractive? That's very personal. Like, that's not joking around at all," contestant Michael Stagliano told the cameras during the scene. "That's like, 'You're ugly.' And there's an egg at your back to prove it."
(For the record, Michael threw his egg at Erica, as did most of the men.)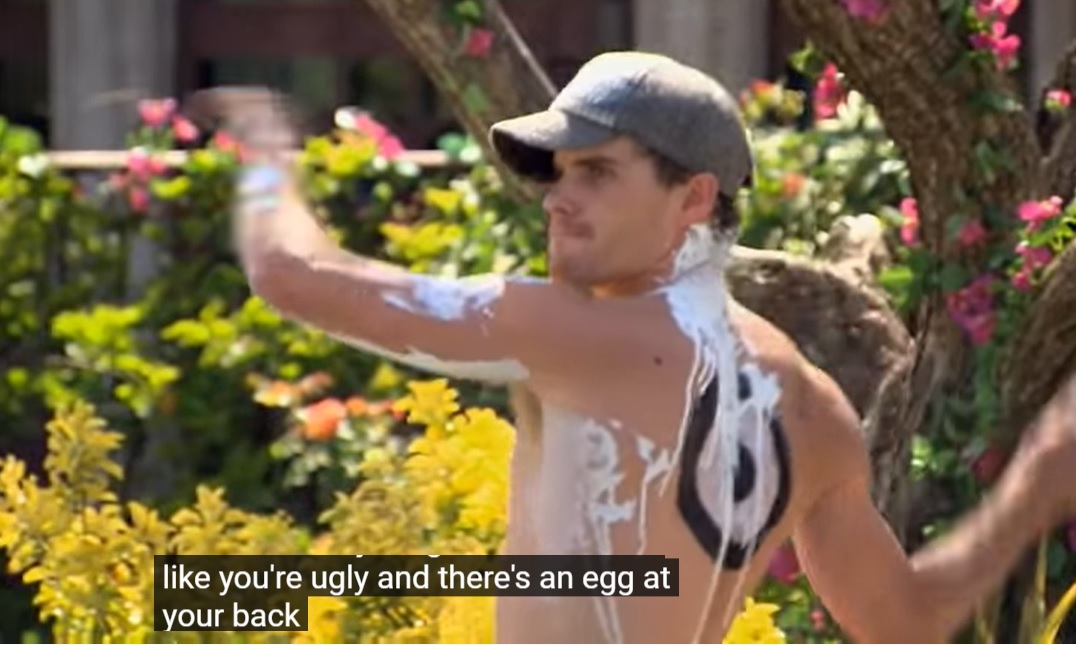 "It really hurt, so that's when I was like, 'Ow, I don't want this anymore. Emotionally it was traumatic. Physically, it f**king hurt," Erica said on the podcast, later adding, "The point of the game was not to injure people. It was to humiliate them, I guess."
Erica mentioned that, while appearing on the show, her mental health was suffering, though the show's producers "didn't try to do anything about it."
She claims that appearing on the show resulted in her being diagnosed with Post-Traumatic Stress Disorder.
"I was diagnosed with having PTSD a year after 'Bachelor Pad' by a mental health professional. That's not an exaggeration," Erica said during an interview with Page Six on Wednesday.
During the episode, Erica told the cameras she didn't mind playing the game. However, in her new interview, she revealed that a producer "encouraged" her to say that.
"Now that I'm an attorney, licensed in Texas, I can analyze the situation properly and see that they were having me say that to cover [themselves]," Erica told the site.
Erica said that when she tried to get out of playing the "game," then-host Chris Harrison told her she had to or she might be eliminated from the show.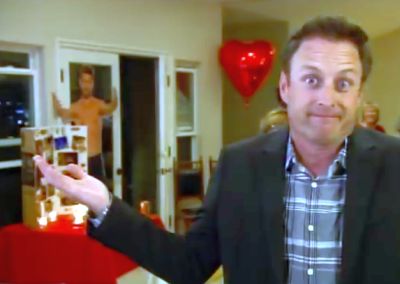 "I just finally feel for me personally it's the appropriate time to speak out about the atrocities of this especially with Chris Harrison leaving the show since he was involved in this situation by telling me I [couldn't] leave without facing elimination," she told Page Six.
"It wasn't entirely a fair show even though it was a game show," she said on the podcast. "I just thought it was unfair they said you'll be eliminated if you don't sit here and let yourself be humiliated."
Erica said she reached out to 'Bachelor' Franchise creator Mike Fleiss last year about the problematic egg challenge, and he acknowledged that it was "tasteless and wrong" and offered his "sincere apologies."
She claims her mental health issues stemming from the show appeared after filming wrapped.
"It took me a long time to overcome that including a lot of money I spent on therapy as well as holistic treatment," she told Page Six. "Of course, in the moment, when I was asked to be doing an interview I did not have time to process it. With PTSD it actually takes time to manifest and diagnose."
On Instagram, Erica– who is now married with two daughters— posted about the hurtful incident.
"The least attractive woman in the house. Whether or not that was any of these men's opinions that did not warrant being pelted with eggs in an abusive manner," she wrote. "Physically it was just as painful as it was mentally. I tried to take the highroad."
View this post on Instagram
Erica stated that she emailed the Franchise's in-house attorney and asked that the egg episode of 'Bachelor Pad' be removed from On Demand.
"She was very condescending to me and replied that just because I had a lifestyle change and I'm now a very successful attorney and mother that doesn't warrant removing the episode," Erica wrote. "I think they completely missed the point. That episode never should have been aired and especially now that they are claiming to be evolved it should not be available streaming or elsewhere.
"However, I have come to accept that the franchise and network are just more powerful than me. I do not believe that their attorney is better than me but I also do not wish to go into a legal battle."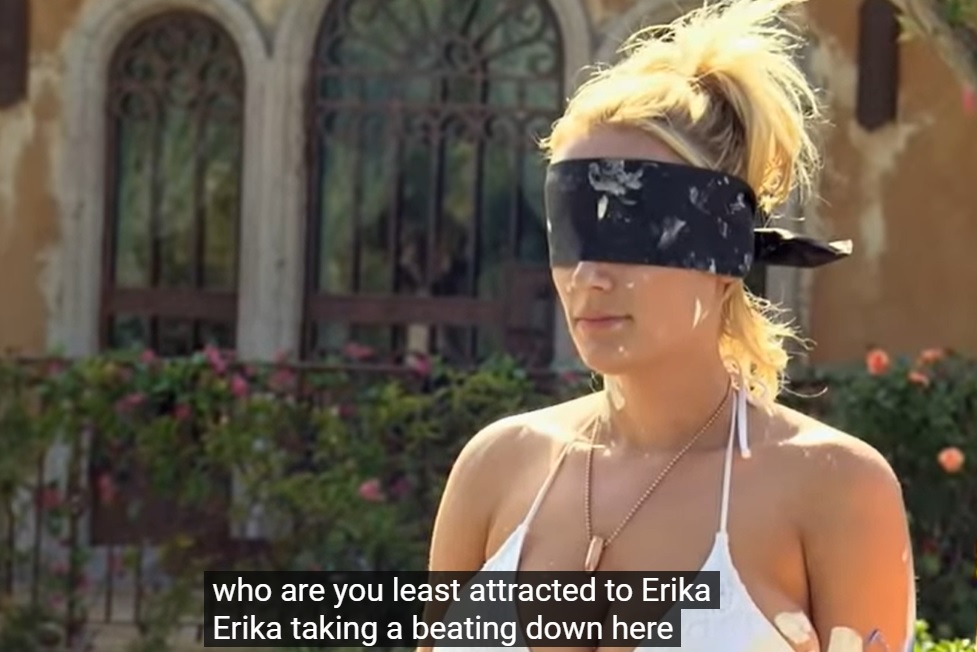 She went on to write that she was "brainwashed," which explains why she went on to appear on 'Bachelor Pad' Season 3 in 2012, one year after the traumatic egg-throwing challenge.
"I suffered major PTSD. That is not a term I use lightly Before this experience I had never suffered any type of mental health issues or even been to a therapist," she wrote. "The mental and physical pain of the egg challenge haunted me. I was so brainwashed that I thought the only way to fix it was by going back on 'Bachelor Pad' Season 3.
"Of course that did not solve my problems. So the year after that was really hard for me. Some days actually a lot of days I didn't even wanna get out of bed. I graduated law school but I couldn't even focus enough to take my bar exam, so I had to start intensive therapy as well as holistic treatments such a yoga. Now I'm an attorney awaiting apology."
In the comment section of Erica's post, some of the other women who participated in the challenge, spoke out about their memories of that day.
"It still hurts my heart reliving that day. I'm so sorry that happened to you. I remember how awful it was," Holly Julian wrote.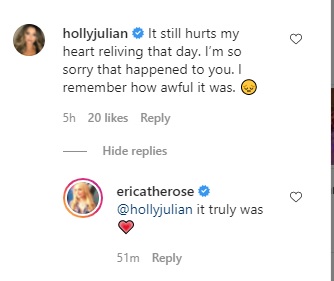 "I still cannot believe this happened," Michelle Money wrote. "I am so sorry that you had to go through this. You are beyond beautiful inside and out and anyone who has the privilege of knowing you can attest to the amazing person you are.
Mike Fleiss and Chris Harrison have yet to address Erica's claims publicly.
You can watch the scene in question in the video below.
RELATED STORY: Chris Harrison Announces He Won't Return to the 'Bachelor' Franchise; Will Reportedly Receive an Eight-Figure Payout For Silence
(Photos: ABC; Instagram)