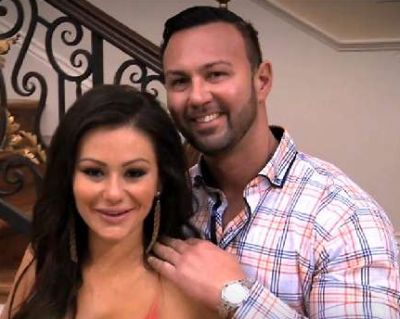 Jersey Shore stars Jenni 'JWoWW' Farley and Roger Mathews are currently starring on the new show Marriage Boot Camp: Reality Stars (which, according to some of The Ashley's readers is a complete trashbag full of ridiculousness).
Jenni, who is about to give birth to the couple's first child, recently spoke with YourTango about her experience on the show. While it seems odd that a couple about to have a baby would go on national TV and air all of their relationship's dirty laundry, Jenni says that she had no idea she was pregnant when they signed on to do the show.
"The week we left to go film the show was the week we found out we were pregnant," Jenni, who announced her pregnancy on Christmas last year, told the site.
Jenni and Roger decided to keep the bun in the oven a secret from their 'Marriage Boot Camp' co-stars, but that proved to be a difficult task, what with all the opportunities to get drunk and have hot tub hi-jinks that kept coming up.
"We were trying to deal with it and not tell anyone," she said. "They realized it when I wouldn't drink and I wouldn't go in the hot tub. Everyone caught on from the stuff I wasn't doing. I wasn't drinking champagne. I was like, 'I can't go in the hot tub for six weeks because of medication.' I kept saying that I had a 'medical condition' that does not allow me to drink, go in a Jacuzzi, and makes me pass out at 9pm every night. Everyone is like, 'What?'"
Don't you hate it when you're filming a reality show and you can't go in the hot tub because of your pregnancy?!
Anyway, Jenni says that her pregnancy caused her emotions to be amplified during the filming of the show.
"I was super nauseous, very tired, very cranky, and it was a little crazy," she said. "You will see it on the show. I am not my usual self. I was way more crazy on the show because of the hormones."
Wait– isn't Jenni cranky and crazy on every reality show she's ever been on? Just sayin'….
Anyway, Jenni thinks that doing the show was a good idea.
"It definitely helped," she said. "We've used the tools [they gave us] to help. We're so into the pregnancy right now."
Jenni is due to give birth to her daughter next month.
(Photo: WeTV)