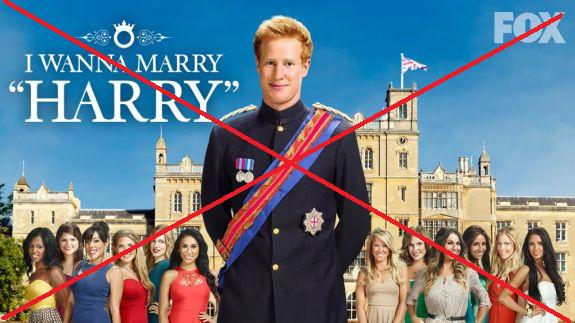 Dozens of people are probably going to cry when they hear this news: I Wanna Marry Harry has been cancelled.
The show, which saw a dozen American girls swooning over a guy because they thought he was Prince Harry, has basically been a ratings bomb since it premiered on May 20. (To help you understand just how badly the show did in the ratings, let's bust out some numbers: The May 27 episode brought in only 1.14 million viewers. To compare, the May 19 episode of fellow dating show The Bachelorette delivered 6.99 million viewers.)
Anyway, FOX has pulled the plug on the dismally rated dating show. The Ashley knows that she does have some readers that really enjoyed the show, so she is happy to report that fans will able to watch the rest of the unaired episodes online.
"Starting Friday afternoon, any unaired episodes of 'Harry' will be made available for viewing on Fox.com, Fox On Demand, FOX NOW and Hulu," it's being reported.
Last month, The Ashley's blog pal, The TV Page, interviewed the star of 'I Wanna Marry Harry' about his experience of hoodwinking 12 girls into thinking he was a British prince.
"It wasn't easy and I didn't particularly enjoy that aspect of it," Matthew Hicks told The TV Page of the deception.  "At the end of the day, it's entertainment, it's lighthearted. It's all about fun."
RIP, 'I Wanna Marry Harry,' we hardly knew ye. Surely the British flag will be flying at half-mast today to mourn this loss.