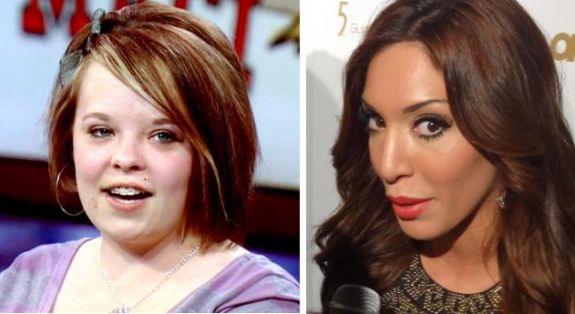 It looks like we have a full-fledged Teen Mom feud on our hands!
Earlier this week in an exclusive interview with Starcasm, Farrah Abraham made some cruel comments about the second pregnancy of her former co-star Catelynn Lowell. (Last month, The Ashley broke the news that Catelynn and her fiance, Tyler Baltierra, are expecting their second child!) Farrah blasted Catelynn and Tyler for getting pregnant again (even though the couple had previously said they were actively trying for a child).
"I wish them all the best, but it does make me very sad to still see them make poor choices," Farrah told Starcasm. "I'm very sad to hear that the other Teen Moms don't take that as serious as they should."
I'm sorry…what?!
We have officially entered the Twilight Zone, people. Farrah– the same person that 1) made multiple adult films and then lied about it 2) has been arrested for DUI and 3) continues to promote her sex tape despite the fact that she claims it 'ruined her life'–is bashing someone else for making bad choices?!
"If I did want to have a family, I would feel secure in showing my family as much love as possible. I bought my own house, I'm starting my own company, I'm doing other things and really just showing that I'm a stable, reliable, great parent. I take that very seriously every day and it's no joke," she said. "So I hope that with others, who are getting to be pregnant with their second child, that they have a home, that they have a stable financial situation and that they have a supportive family."
A stable, reliable, great parent that spends most of her time away from her daughter so that she can go party at nightclubs, mind you.
Of course, Catelynn was offended by Farrah's remarks about her pregnancy. (Just for the record– Catelynn and Tyler have been together nearly 10 years and own their own home. Farrah, despite what she says, does not own a home.)
Catelynn took to her Twitter to put her delusional former co-star in her place.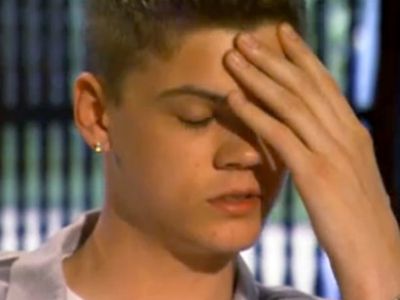 "Huh bad choices?!? Hahaha I didn't make a so called "sex tape" but WE make the bad choices? Seriously her comments made my night! #Rofl," Catelynn tweeted on Monday.
Strangely, this is not the first time Farrah blasted someone for getting pregnant. Back in 2011, she tweeted her disgust over Kourtney Kardashian's announcement that she was pregnant with her second child, saying that Kourtney had obviously learned nothing from 'Teen Mom.' (See the tweets here!) Kourtney, who at the time of the announcement was thirty two years old, and her boyfriend, Scott Disick laid into Farrah via Twitter over her comments.
When will Farrah learn to keep her big plastic-surgery-enhanced mouth shut?
(Photos: MTV, VH-1)