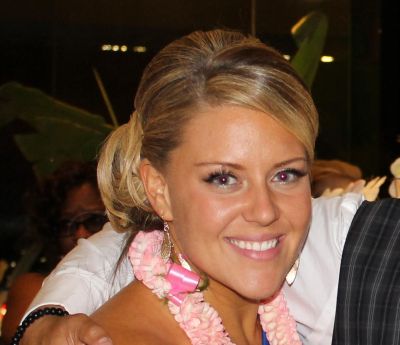 Jessica Limpert gained a lot by going on the twelfth season of The Biggest Loser in 2011: Not only did she meet her boyfriend, Ramon Medeiros, on the Ranch, but she also lost nearly 70 lbs. during the course of the show. Three years later, Jessica is still with Ramon and has managed to turn her appearance on the show into a successful health coaching business.
Yesterday, however, Jessica took to her Facebook page to discuss something that nearly all of the contestants that have appeared on 'The Biggest Loser' over the years have had to deal with: bullying from fans. Although Jessica did not indicate what exactly set her off, she decided to discuss the dark side of being on a this reality show, adding that the contestants are subjected to being harassed online for regaining weight.
"Many of you think that just because we were chosen to be a contestant on the show that we were given a magical pill and for the rest of our lives we will forever be fit and life is grand," she wrote. "Get real. What we were given was a chance to lose weight on TV… so you could watch us go through the hard work, sweat, struggle and tears on TV.
"Here's the deal– we left our lives to focus on ourselves with the help of TV's best trainers, we were lightly guided on what to eat and how much, many of us worked out for 10-12 hrs a day if not more and lost all that weight in a short amount of time 5 – 7 months depending on season," she wrote.

Jessica explained why many of the people that lose a lot of weight on 'The Biggest Loser' end up gaining some–or all–of it back.

"When the show is over and the 'bubble' is gone then the real works starts," she wrote. "We have to figure out how to do this for real- in real life, rather than your entertainment on Tuesday nights. The struggle is real, the addictions are real and the heartache is 10x worse when someone feels they can judge one of us."
Contestants are often asked by the show's fans for advice on losing weight. Jessica said that, while many of the former contestants are happy to help, they are often subjected to taunting or harassment for doing so.
"So before one of you 'fans' think it's okay to make a [negative] comment about one of us don't think for one minute we will help guide you so you can be healthy," Jessica wrote. "What's funnier is that these certain people are the first in line at meet & greets and are the ones messaging daily for help! Not any 1 of our contracts states that we are obligated to help a viewer be healthier. Those who do, its out of the kindness of their heart or their personal passion."
Jessica was quick to clarify that her words were not intended for the show's true fans who are often supportive and kind to the former contestants.
She is not the only former contestant to speak out on this issue. In January 2013, Suzy Hoover blasted 'fans' who made fun of some of the show's former contestants for gaining back some of the weight. She went on to discuss the unhealthy practices the contestants pick up during their stays on the Ranch.
For those of you wondering, the next season of 'The Biggest Loser' starts September 11!