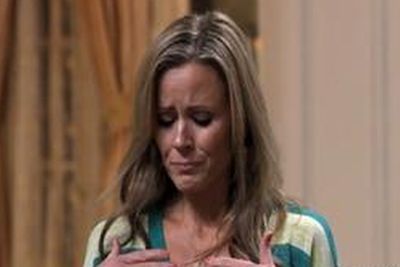 Bitter, party of one?
Trista Sutter made herself sound even more unlikeable than usual in a recent interview with Us Weekly. Trista, who was the original star of The Bachelorette back in 2003, was supposed to talk about how much the show has changed since she was on it. Instead, she decided to use the time to whine about how much better the show's current star, Andi Dorfman, has it than she did.
"They get to go on much better trips!" she told Us Weekly. "…And now she's going to Marseilles and Paris and Venice…Hong Kong, Ireland…They travel the world."
Poor Trista was forced to "slum" it locally during her season of 'The Bachelorette.'
"I went to Seattle and Cabo [San Lucas] and Sedona," she said. ""Can you tell that I'm just a little jealous?
Um…waaa?
Trista also used her interview to basically criticize Andi's habit of kissing a lot of the guys on her season.
"I kissed three guys," she said of her time on the show. "And I think that the kisses are a little more plentiful [now]. It was a little more innocent when Ryan and I were on."
(Does anyone else think Trista is the kind of person that if you knew her she would criticize everything you did, but with a smile on her face the whole time? Or is it just me?)
This is certainly not the first time Trista has made snide remarks to another member of the 'Bachelor' family. In fact, she just had an online scuffle with Courtney Robertson, the winner of Ben Flajnik's season, over Courtney's new book. In April, she got into it with Nikki Ferrell after Trista made some comments about Nikki and Juan Pablo Galavis' relationship in a tabloid. Nikki snapped back at Trista via Twitter.
If you can't get enough of Trista, you can catch her and her husband Ryan on the current season of Marriage Boot Camp: Reality Stars.
(Photo: WeTV)