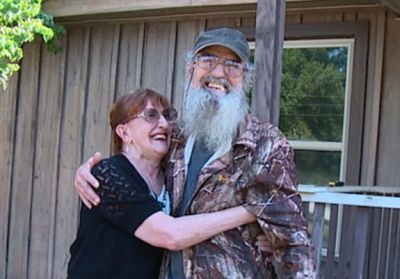 The entire Robertson clan participates in the family's reality show, Duck Dynasty. Everyone except Uncle Si's wife Christine, that is. Viewers only learned last year that Uncle Si had a wife (and two children and several grandkids, all of whom do not appear on the show), and in a new interview with Us Weekly, Si reveals he's been lying about the reason Christine has not appeared on the show.
"I always told people, 'She's got better sense than the rest of us.' But that ain't the real reason," Si said of his wife.
"Sometimes we film 12 hours a day, and she's just not healthy enough to go through the rigors of that."
While Si did not go into detail about his wife's health problems (except to say "it ain't no big deal"), in past interviews he has spoken about his wife's health struggles, including the  problems she had trying to conceive their now-grown children, Scott and Trasa.
"She went to all the specialists and they all said, 'You'll never have kids,'" Si told FOX News last year. "I said, 'Don't worry about it.' She said, 'Yeah but I know you love 'em so I'm not going to marry you.' I said, 'Hey, don't worry about that. The doctors don't have the final word. I believe in a higher power,' and I've got what you call two miracle babies, my daughter and my son and they gave me four grandsons a piece."
Christine doesn't film for the show, which Si says is probably a smart move on her part.
"She wants no part of it anyway," he told Us Weekly. "She's been married to me for 43 years. The last thing she needs is to watch us on a TV show."
In a 2013 interview with In Touch Weekly, Si talked about how much has changed the lives of him and his wife.
"We've lost our privacy. I don't really like that part of it, to be honest. But I guess that's the cost of being famous!"
(Photo: ABC News)