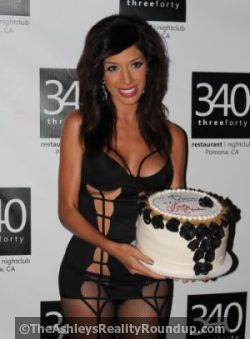 Farrah Abraham starred for four seasons alongside Catelynn Lowell, Amber Portwood and Maci Bookout on the MTV reality series Teen Mom. Over the last few years, however, the other girls' relationships with Farrah have become strained. After Catelynn poked fun at Farrah's infamous 2013 sex tape, Farrah went on the war-path, insulting Catelynn's weight and later criticizing her former pal for getting pregnant.
At Farrah's sex toy release party last night (which The Ashley personally attended and will be posting about very soon–complete with photos!) The Ashley talked to Farrah about her 'Teen Mom' days and why the relationships with her former co-stars have soured over the years.
"I really don't care what they say," Farrah told The Ashley. ""None of them ever reach out and talk to me and if they do it's something negative."
While Catelynn has not been supportive, Maci has not publicly said anything negative about Farrah, and even commented that she would watch Farrah's sexy-time tape.
Farrah never got along with her other co-star, Amber, (as The Ashley reveals in her book, Teen Mom Confidential) and, though the girls don't speak, Farrah said that she is supportive of Amber's decision to write a book about her life.
"I believe that everyone should write a book," Farrah told The Ashley. "It's very therapeutic. I think it helps you grow, so I encourage her to do that."
The Ashley will be posting her complete coverage of Farrah's toy release party over the next few days, so stay tuned. (Trust me, you're not going to want to miss this hot mess!)