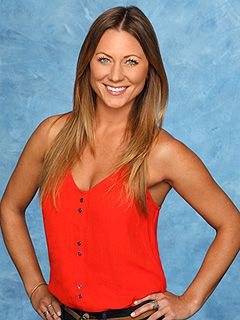 Clearly "es okay" that Juan Pablo Galavis didn't choose single mom Renee Oteri during his season of The Bachelor— she has more than moved on!
Renee, who got dumped by Juan Pablo during last season's Hometown Dates, married her longtime friend Brady Maynard in March. Yesterday she announced to People magazine that she is pregnant with her second child!
"We're so excited!" she told the magazine. "Brady is already paranoid — always checking in and making sure I'm okay. He's in dad mode already!"
Renee, who seemed much more mature than any of the other girls on her season, won the hearts of 'Bachelor' fans with her easygoing personality. She introduced her nine-year-old son, Ben, to Juan Pablo during Hometowns, but did not make it past that week. She finished in fourth place, with Juan Pablo ultimately choosing Nikki Ferrell to be his wife er…. love…um…long-distance girlfriend.
After the 'Bachelor' disaster, Renee started dating Brady, who she has known since she was 12 years old. The couple became engaged in February and married a month later. They plan to keep growing their family.
"We want more kids," she said. "We're going to try for another after this one!"
Now three months along, Renee is due in January 2015. Congrats to Renee and her family!
(Photo: ABC)