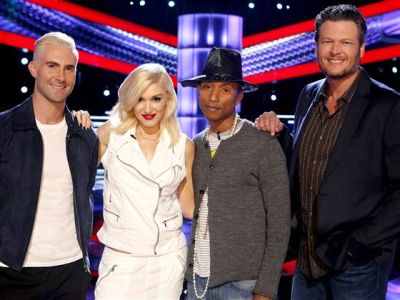 Last month, The Ashley was given the opportunity to attend a taping of The Voice during the Blind Auditions. She was able to watch new coaches Gwen Stefani and Pharrell Williams get used to their new jobs, and see how they interacted with longtime coaches Blake Shelton and Adam Levine.
While The Ashley can't give away any spoilers as to what kind of contestants we will see or who made it through, she can tell you that the new coaches seem to be having a  hard time bashing one another while trying to get contestants to join their team.
While Adam and Blake have no problem insulting and poking fun at each other (and the new coaches), Gwen and Pharrell, who are good pals, just couldn't bear to say anything negative about each other, prompting Adam to compare their battles for contestants to "a candy cane sword fight!"
While Gwen and Pharrell are playing nice, they are definitely playing to win. Both bring a unique coaching style that we have yet to see on 'The Voice.'
To read all about how Gwen and Pharrell are doing in their new roles on 'The Voice' and how they interact with each other on set, click here to read The Ashley's story on Today.com!
(Photo: Trae Patton/NBC)
To read all about