It seems that every week, another reality star is announcing that she's pregnant! With so many reality stars in various states of pregnancy, it's hard to keep track! To help you keep all your impregnated reality show stars straight, The Ashley has created this "Bump-o-Meter" to track the progress of the pregnancies. (Yes, I need a life, but that's not exactly front-page news now, is it?)
From possibly pregnant to pop-ready, here's the progress of your favorite reality stars' pregnancies:
Maybe Baby Bumpin'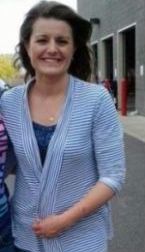 Robyn Brown (Sister Wives)
Robyn and her husband, Kody, have not officially confirmed that Robyn is expecting their second child, however, the season finale of 'Sister Wives' ended with some very big hints that Robyn was carrying Kody's 18th child (and her fifth child). Recent photos of Robyn show her attempting to cover her stomach, which may be a tell-tale sign that she's expecting.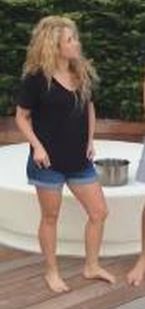 Shakira (The Voice)
While Shakira has not confirmed or denied the reports that she is pregnant with her second child, the former coach of 'The Voice' is said to be about 3.5 months along in her pregnancy. She is already the mother of one-year-old Milan, courtesy of her partner Gerard Piqué. In this screenshot taken from the ALS Ice Bucket Challenge video Shakira posted yesterday, it appears that she does, indeed have a bit of a tummy. While news outlets in Shakira's native Colombia have confirmed the pregnancy, the U.S. media has not.
Barely Bumpin'


Jill Duggar (19 Kids & Counting): 2 months
Just a month after getting married (and getting her first kiss!) Jill Duggar found out that she and her husband, Derick Dillard, were expecting a baby! They just announced the news today. The couple, who tied the knot on June 21, said that they weren't trying to get pregnant, and they were shocked to find out it had happened so soon after their wedding. Jill is now two months along in her pregnancy and is due in March. Like Jill's parents, who have 19 children, Jill and Derick are hoping for a big family.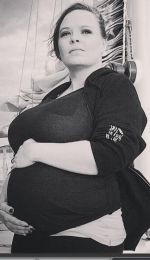 Showin' & Growin'
Catelynn Lowell (Teen Mom):  4 months

The Ashley broke the news all the way back in May that 'Teen Mom' star Catelynn Lowell and her fiance Tyler Baltierra were expecting a baby, but the couple just recently confirmed the news. Last weekend, they found out the gender of their unborn child. (Click here to see if they're having a boy or a girl!) Catelynn is now four months along in her pregnancy. This will be the second child for Catelynn and Tyler, who gave their daughter, Carly, up for adoption in 2009. Catelynn and Tyler, who have rescheduled their wedding date for 2015, will next appear on the 'Couples Therapy' All-Star Reunion in September.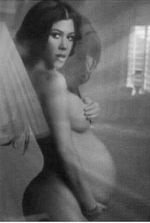 Kourtney Kardashian (Keeping Up With the Kardashians): 5.5 months
Kourtney revealed that's pregnant with her third child during the premiere of the new season of her reality show, 'Keeping Up With the Kardashians' in June. "I'm pregnant,' Kourtney said when telling her boyfriend, Scott Disick and family the news. "It was not a plan." Kourtney and Scott are already the parents of four-year-old Mason and two-year-old Penelope. In true Kardashian fashion, Kourtney is doing her best to show off her body while pregnant, posting intimate Instagram photos of her naked body (as you do) and wearing skintight lace bodysuits to public events. According to Hollywood Life, Kourtney is due at the end of November and is reportedly having a boy, although she has not confirmed either report.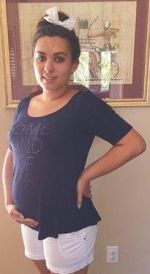 Izabella Tovar (16 and Pregnant): 6.5 months
Last month Izabella, who starred on the third season of '16 and Pregnant,' announced that she and her fiance, Jairo Rodriguez, are expecting their second child in November. It was a big deal for Izabella to publicly announce this pregnancy since she kept her first pregnancy a secret until she was eight months along (and filming for '16 and Pregnant!') In a post announcing her big news, Izabella said that the pregnancy was planned and that she and Jairo have always wanted to have their kids about four to five years apart. Last month Izabella revealed that she's having a girl!
Big Baby Bumps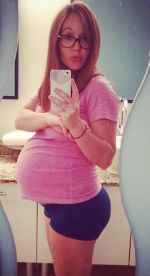 Ashley Hebert (The Bachelorette): 7 months
Ashley Hebert is currently about seven months along in her first pregnancy. She and her husband, JP Rosenbaum, whom she met during her season of 'The Bachelorette,' announced the pregnancy in March and appeared on the 'Bachelorette Men Tell All' special last month, where Ashley was given an ultrasound live on the air to find out if she was having a boy or a girl. (This was really strange, of course, because the couple announced the sex of their baby weeks before via a magazine.) In case you missed both announcements–it's a boy!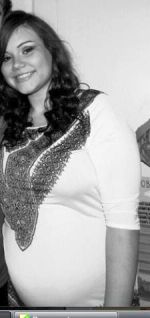 Whitney Purvis (16 and Pregnant): 7.5 months
Whitney, one of two girls from the first season of '16 and Pregnant' that didn't get chosen for 'Teen Mom' fame and fortune, is currently in the final trimester of her second pregnancy. She is still together with Weston Gosa, the father of her first son Weston Jr., who is now five years old. The couple has been on and off since we watched them on MTV in 2009 and both have been arrested multiple times for assorted funny things. Whitney announced the pregnancy in February and is due around Halloween. She is having another boy and plans to name him River.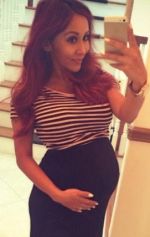 Nicole 'Snooki' Polizzi (Jersey Shore): 8 months
Coming in as the most pregnant reality star on the list is Nicole 'Snooki' Polizzi of 'Jersey Shore' and 'Snooki & JWoWW' fame. Nicole is currently eight months pregnant with her second child, which
is a girl
. Nicole and her fiance, Jionni LaValle, plan to (finally!)
get married
after Snooki delivers the baby this fall. They are already the parents of two-year-old Lorenzo. Snooki's BFF and co-star, Jenni 'JWoWW' Farley, recently gave birth to her first child, a girl named Meilani. Both babies will be featured on the upcoming season of 'Snooki & JWoWW.'
(Photos: Instagram, Twitter)