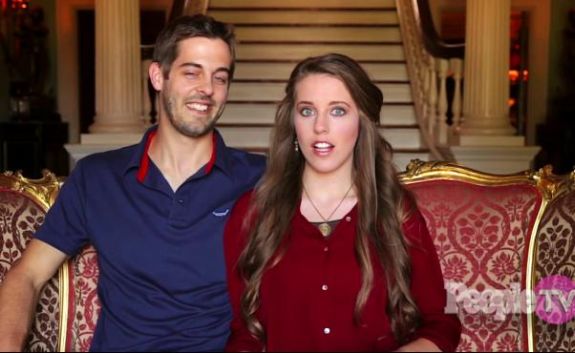 When 19 Kids and Counting star Jill Duggar married Derick Dillard at the end of June, The Ashley made a prediction that Jill would be popping out a kid by Easter 2015….and although The Ashley was kidding, it looks like she was right!
Jill and Derick announced today that, just eight weeks after the got married, they are expecting their first child!
The couple told People that they found out about a month after they got married.
"We were really surprised when we found out because I had taken two negative pregnancy tests previously and my sisters were asking if I was pregnant," Jill said. "And they're like, 'Mom has pregnancy tests upstairs and you could be pregnant so you should take one.'" (Michelle Duggar probably has pregnancy tests stockpiled all over the house! She probably buys those things in bulk over at the Wal-Mart!)
"It was more, like, to prove them wrong, like, 'I'm not pregnant, and I'm going to show you so' and well…" Jill said of taking the test.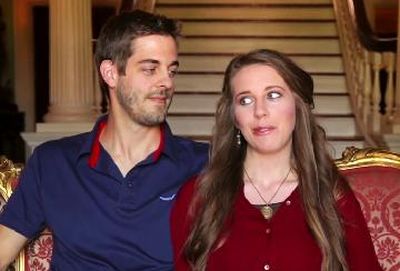 The couple were shocked to see the test come back positive.
"About 30 days after Jill and Derick got married they gathered everyone in the living room and shared the news," Jill's dad, Jim Bob told the magazine. "Everyone was clapping and cheering, and we were in shock, too."
Jill is now about two months along in her pregnancy and is due in March.
The Ashley now feels bad for Jill's sister, Jessa, who just announced her engagement earlier this week. Jill totally swooped in and stole her thunder with the pregnancy!
Anyway, Derick said that he and Jill weren't "trying" to have a baby, but it just happened. (Hey, they waited until their wedding day to have their first kiss, so they were probably ready to explode with hormones!) While they are not opposed to having a jumbo-sized family like Jill's parents, they aren't planning for that either.
"As far as our future, we're not trying to have kids," Derick said. "We'll just see what God brings along. It's exciting."
"We are open to as many kids as God will give us," Jill added.
Congrats to Jill and Derick!