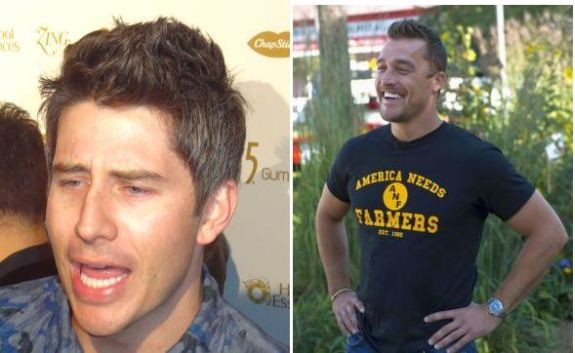 Bitter, party of one!
Arie Luyendyk Jr. will not be the next Bachelor and, judging from one of his latest tweets, the racecar driver is not happy about it! Arie has been campaigning hard over the last few months for the role of rose-giver, even penning an emotional blog post on Sean Lowe's website about how he's religious now and open to finding love…and stuff. Despite all of this, however, it appears that the show's producers have decided to go in another direction–with that direction most likely being friendly farmer Chris Soules from Andi Dorfman's season!
Arie gave his followers an update on the 'Bachelor' situation with a very snarky tweet yesterday.
I'm not the Bachelor, have fun on the farm people ✌️

— Arie Luyendyk Jr. (@ariejr) August 26, 2014
His "have fun on the farm" phrasing is obviously a dig at Chris, who makes his living hoeing the fields of Iowa. (Well, at least he will be well-prepared for all the "hoes" coming his way via 'The Bachelor!')
Arie's fans were obviously disappointed he wasn't chosen for the role, and tweeted him words of encouragement.
"Thanks for the kind words everyone. It wasn't meant to be, and I'm okay with it. Happy I can move forward," he tweeted later.
Chris and the show's producers have yet to confirm that Chris is the next 'Bachelor' but franchise expert Reality Steve says it's a done deal. According to him, the news will be announced tomorrow morning on 'Good Morning America,' which explains why Arie was being so candid on social media on something that would normally be hush-hush during negotiations. Filming for the new season will start next month, Steve says.
Poor Arie never really had a chance, in The Ashley's opinion. The producers probably thought of all the fun they could have with Chris' "angle" of being a farmer: from stereotypical square dancing to the Hee-Haw-inspired promos we will almost certainly be subjected to. The options are essentially limitless.
The Ashley will update this when the announcement has officially been made!
UPDATE: Farmer Chris is officially the next 'Bachelor!' He appeared on 'Good Morning America' this morning to announce the news.
"I believe in the process," he said." "I believe in what I went through on the previous show, and that's why I'm doing it."
(Chris photo: Twitter)