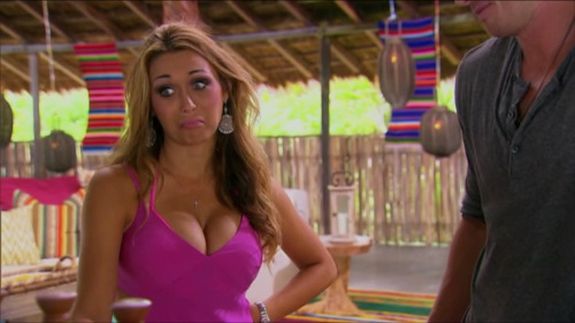 The Ashley has made no secret of the fact that she is obsessed with Bachelor in Paradise. Sadly, the show's final episode aired yesterday, which means there will be no more people "putting themselves out there" for love, and no more girls having therapy sessions with raccoons.
The Ashley has been asked by many of her readers whether or not there will be a 'Bachelor in Paradise' reunion. Typically, with the 'Bachelor' franchise shows, the reunions are taped a few weeks before the final episode airs, and then are shown after the finale, but no reunion show aired last night.
Well, The Ashley has some bad new for you…there will be no 'Bachelor in Paradise' reunion. Cast member Jesse Kovacs confirmed to The Ashley that no reunion show is planned.
"We haven't heard anything about one, and we haven't filmed any type of reunion," he told The Ashley in an interview last week.
Chris Harrison told TV Guide that this was because ABC wasn't sure if the show would be a big enough hit to warrant a reunion.
"The one bad thing about the show is that the network couldn't assure it would be a success so we didn't allow for a Tell All special," he said.
While the news that there will not be a reunion show is disappointing, The Ashley does have some good news to report! Host Chris Harrison confirmed on Twitter last night that 'Bachelor in Paradise' has been renewed for a second season!
Happy to announce officially #BachelorInParadise will be back next summer! #ABC

— Chris Harrison (@chrisbharrison) September 8, 2014
In his interview with TV Guide, Chris said that he and the producers plan to keep 'Bachelor in Paradise' Season 2 similar to the first.
"Hopefully we won't mess with it too much," he said, adding that there are a few people he'd love to see on Season 2. "If he's still single I'd like to see Brooks back for longer. I think he's a sincere, good guy and I think fans would like to see him give it a shot. We were a little bit selfish in our casting with people like Jackie and Lacy who were people we really liked, but for some reason fell through the cracks and we thought they'd go far in the show and didn't. I like the fact that we can take people we like and give them another shot." (Note: I think he meant Lucy, not Lacy!)
The Ashley will be posting her 'Bachelor in Paradise' finale recap very soon! Until then, enjoy this!
(Photo: ABC)