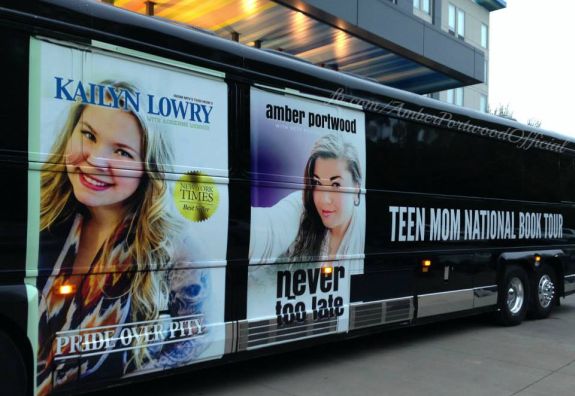 Two of the stars of the Teen Mom franchise have teamed up and are currently touring the country– and The Ashley has all of the exclusive details!
Teen Mom star Amber Portwood has joined forces with fellow author and franchise star Kail Lowry for a multi-state tour to promote their books, Never Too Late and Pride Over Pity. The girls will be making their way through the Southern states in a genuine tour bus, stopping at eight bookstores over five days to meet fans, take photos and sign copies of their book!
Amber and Kail kicked off their book tour in Louisville today, and will be in Knoxville, Tennessee, tonight. Although they are traveling in their tour bus, the girls stay in hotels at night. This is only the second time that Kail and Amber have met each other, the first being at the "Ask the Moms" special taping in New York City in August.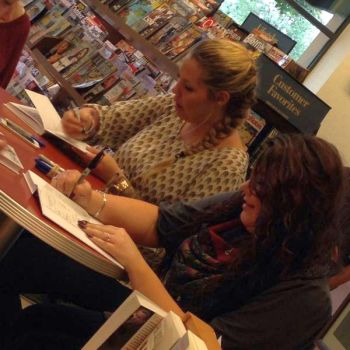 "I'm excited to work with her because, even though I didn't know her prior to this, I watched the show and I can tell how much she has grown," Kail told The Ashley.
If you are not able to make one of the dates listed below, you can still be a part of the book tour, because The Ashley has confirmed that MTV is filming it! The footage filmed will likely be used for the upcoming fifth season of 'Teen Mom!'
For more info on Amber's book, Never Too Late, click here! For more info on Kail's book, Pride Over Pity, click here!
Catch Amber and Kail at one of these events:
September 12 at 5 p.m.– Barnes & Noble (Knoxville, TN)
September 13 at 12 p.m.– Books a Million (Cleveland, TN)
September 13 at 5 p.m.– Books a Million (Atlanta, GA)
September 14 at 3 p.m.– Books a Million (Birmingham, AL)
September 14 at 6:30 p.m.– Barnes & Noble (Huntsville, AL)
September 15 at 4 p.m.– Barnes & Noble (Brentwood, TN)
September 15 at 7 p.m.– Barnes & Noble at Vanderbilt University (Nashville, TN)
(Photos: Facebook.com/AmberPortwoodOfficial)