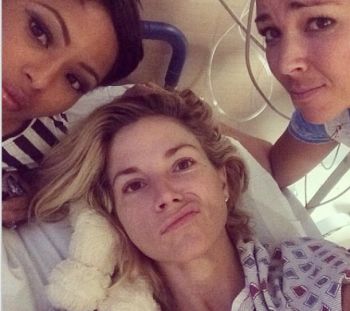 MTV's The Challenge star Diem Brown just can't seem to catch a break. Diem, who is in the middle of her third battle with cancer, was rushed to the hospital on Thursday night after her doctors discovered a blockage in her kidneys.
Although she was set to begin chemotherapy on Tuesday, she was only able to get one of the two rounds of chemo scheduled, due to a spike in her kidney levels. The doctors later discovered the blockage was being caused by another tumor.
Diem, who has battled ovarian cancer twice over the last 10 years, was filming the upcoming season of 'The Challenge' when she collapsed on-set in August. She was later diagnosed with colon cancer. According to Us Weekly, her diagnosis is an "aggressive ovarian cancer that spread into two areas of her colon, with tumors throughout her stomach and stomach lining, as well."
In an interview with People on Saturday, Diem said that the tumor blocking her kidneys was causing her excruciating back pain. She was forced to have surgery to help with the blockage.
"They told me there I had complete blockage of my left kidney and 75 percent blockage of my right because of swelling and tumors so they had to do a surgery and put in stents so things could flow normally again," Diem told the magazine.
Despite the latest setback, Diem has maintained an extremely positive attitude.
"Chemo is kicking my arse -Can't lie yesterday &today have been the toughest yet, -I know how lucky I am but wld love just two days w/no pain," she tweeted on Thursday.
"I was so frustrated that it seems my body keeps throwing me curve balls over and over," she told People. "It's hard to keep your spirit and your mind positive … But I'm glad we are catching these curve balls and fixing them, one by one."
Diem has lost a significant amount of weight over the last few months, and she is working hard to regain some so that she is strong enough to begin her full chemo treatment plan. She is currently still in the hospital.
If you're interested in helping Diem in her battle with cancer, click here!