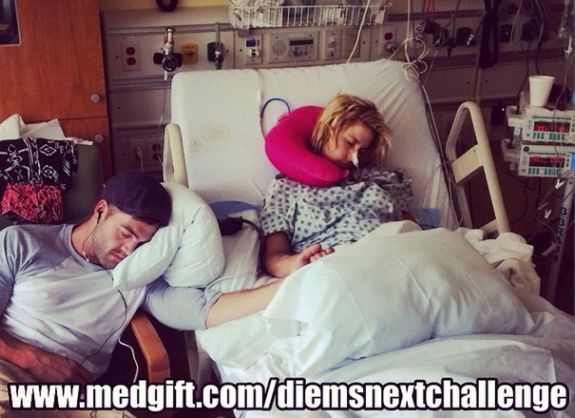 People say that a picture is worth a thousand words and, while The Ashley generally tries not to include cliches and sayings like that in her articles, sometimes it just can't be helped.
Case in point: On Monday night, Chris "CT" Tamburello emerged from his months-long social media hiatus by posting the photo above to his Instagram account. The photo shows CT sleeping next to the hospital bed of his ex-girlfriend (and former co-star from MTV's The Challenge) Diem Brown.  The Ashley recently reported that Diem is fighting her third battle with cancer, and was hospitalized last week after a new tumor was found to be blocking her kidneys.
"Sometimes just being there for someone can be the difference between a good and bad day. @DiemBrown could definitely use a few…Please go to her support page," CT, who dated Diem for several years after they met on 'The Challenge, captioned the heartwarming photo.
CT, who is rumored to have been in Panama filming 'The Challenge' with Diem when she collapsed last month, had remained silent since the news about Diem's cancer returning broke. It seems that he posted the photo to let fans know that he is still there for his ex-girlfriend, and that their bond remains strong. CT has always been a great source of support for Diem, especially after her last two bouts with cancer.
Last year, The Ashley compiled what she felt were the Top 5 "C.T. Moments" from all of the seasons he's competed on 'The Challenge.' Two of those five included Diem. (Click here to see which ones she chose!)
To donate money to help fund Diem's third fight against cancer, click here!