The upcoming "Ask The Moms" special will be the first time all of the Teen Mom and Teen Mom 2 casts have come together on-camera. The special, which was filmed last month, is set to premiere after the fifth season of 'Teen Mom 2' finishes airing, but MTV was kind enough to get us fans a sneak peek of all the drama that went down during the taping.
'Teen Mom' stars Amber Portwood, Maci Bookout and Catelynn Lowell sat on stage on one couch, while the 'Teen Mom 2' cast—Leah Calvert, Chelsea Houska, Kail Lowry and Jenelle Evans sat on another, as they all discussed how they use Twitter to connect with their fans.
When prompted by the host, Amber revealed that she and Jenelle don't get along, hence why they don't follow each other on Twitter.
"There's some stuff…" Amber begins before trailing off as if she was unsure she should continue.
The host, who happened to be Nessa from Girl Code, encourages Amber to talk about her issues with Jenelle, and brings up the fact that Jenelle was mad over an interview Amber gave to In Touch Weekly back in March in which Amber said Jenelle needed to "hit rock bottom" before she would fully recover.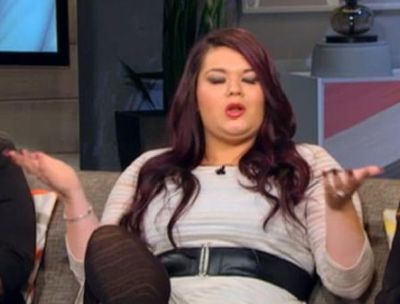 Jenelle revealed how she felt about Amber's words .
"I just think that we're both in different situations and we both just dealt with [drug abuse] differently.
Amber explained what she meant.
"Everything I said in that interview, it wasn't to be an a**hole," she said. "It wasn't meant to be mean. It was simply because she was going through the same s**t that I used to go through and it's words of encouragement and wisdom because I've been there, done that. I'm not saying that I'm this wise person but, you know, I did go to prison. I did put myself in there because I was an addict and I just don't want to see someone that is sort of in the same situation go there."
It seems like the girls may be ready to make amends.
"I've had no hatred toward Amber at all," Jenelle said."I've actually related a lot to her because me and her were kind of in the same boat."
Amber even offered Jenelle a helping hand, should she ever need it.
"I know it's a struggle," Amber said. "I'm there with you. We're good."
Jenelle has over 1 million followers on Twitter already, but she will soon need to make room for one more.
"I'll follow you on Twitter now!" Amber told her.
Watch the full clip below: