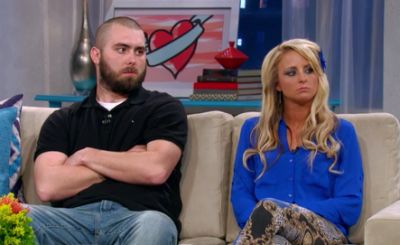 By Holly Rasmussen
It looks like everyone's favorite Mary-Kay-slinging teen mom and her ex-husband are at it again! Teen Mom 2 stars Leah Calvert and Corey Simms are back to battling it out over custody over their twin girls.
If you watched this season of 'Teen Mom 2', you saw Corey and Leah fight over custody of the "girlses," as Leah calls them. Although it appeared that the exes may have called a truce, they're once again at odds, this time over an article that recently appeared in In Touch Weekly recently. Leah claims Corey exposed their secrets to the media to make her look bad.
During many parking lot drop-offs, we saw Leah yell at Corey over the "IN-surance" and Ali's wheelchair as he mumbled something unintelligible about wanting more time with them. Corey and his wife Miranda argued that the "girlses" would have a more stable lifestyle with them and his lawyer, Rusty Webb, agrees.
"Corey believes he's in a position to provide more stability and consistency to the children than what they're receiving now," Rusty Webb told In Touch.  After reading the article, Leah undoubtedly threw down her spray tan gun and Cheeto puffs in a fit of rage and took to her Twitter to clear up the matter.
"Everything that was said in the @intouchweekly article was false," Leah tweeted on Saturday, letting fans know that she and Corey have not called a truce and that the custody battle is still ongoing.
Leah scolded Corey (via social media) for putting their custody battle on social media…
"It's not ok to put legal situations out on social media at such a time like this," she tweeted. "Even Rusty Webb (Coreys Lawyer) is not looking at what is best for two little girls and looking at the fame he can gain from this or by 'winning the case' …Every human that was included in the article should be ashamed of themselves and the hurt they have caused to others by such accusations. What's to come will not justify this but will hopefully prevent it from happening to others. #SoSad #unbelievablySelfish #smh."
Leah has made some questionable choices in her life—the Robbie debacle and the 'Long Island Medium' hair come to mind—it's hard not to agree with her on this one. However, The Ashley can confirm that Corey was not the driving force behind this story, and that it would have been published with or without his lawyers' quotes.
Leah has also expressed concern that Corey could use the fact that she briefly took anti-anxiety medication against her in court. She said in the Teen Mom Reunion Special that she only took the medication for "about a week," but she was caught on camera nodding off and slurring her words after taking the pills. She said she stopped taking them because of how they affected her, although The Ashley's 'Teen Mom 2' sources all tell her that was not the case, and that Leah took the pills much longer than a week.
Only time will tell if these two will be able to work it out and do what's best for the "girlses." Hopefully the MTV camera crew is there to catch every bacon-slapped moment on film.
Corey and Miranda have yet to respond on their social media accounts to Leah's tweets.
(Photo: MTV)