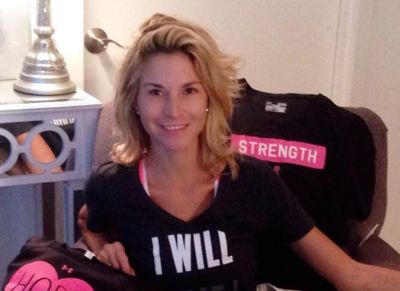 Diem Brown, a star of MTV's The Challenge who is currently battling cancer for the third time, and has found her fight this time around harder than ever before. She is currently hospitalized after facing numerous setbacks, including the discovery of an additional tumor near her kidneys.
In an interview with People, Diem recently opened up about the constant pain she has been suffering lately, and why she decided to try marijuana–for the first time!–to help her deal with it.
"[It feels] like a broken tailbone," Diem told the magazine of her pain. "It's unending."
Although she is taking an assortment of heavy-duty pain killers, Diem said the only thing that has truly helped to ease her pain is pot.
"I asked my doctor about it, and I'll be totally honest – I had never smoked before in my life," she told People. "But I kept hearing everyone mention it. I'm taking all these synthetic drugs and they're not working, so I thought, 'I want to try it.'"
Diem has been unable to eat much during her cancer fight, which has made her drop down to just 100 lbs. She needs to gain weight in order to begin chemo treatments.
"I did the vaporizer and it took away the pain and I finally felt like I was able to eat," she said. "That's what got me a pound higher. [Marijuana] is the only thing that helps."
Diem is scheduled to undergo a procedure today in which a tube will be inserted into her kidney. Her doctors hope this will relieve her pain and the swelling stemming from the tumors in her body. Through it all, Diem has somehow managed to keep a positive attitude.
"I've had one or two brief moments where I felt like my body was shutting down no matter what my mind was thinking, and I'm like, 'What the hell? Shut up!' You legit have to start fighting with yourself," she said. "You can't let your mind go there, ever."
To donate money to Diem's cancer fight, click here!