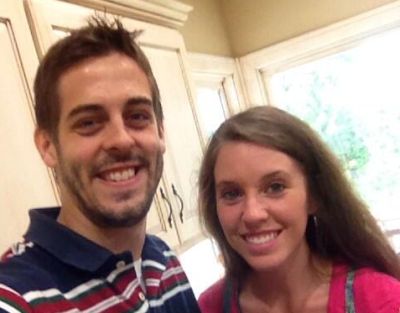 By Holly Rasmussen
It's going to be a boy for Jill Duggar and her husband, Derrick Dillard! The fourth child of Jim Bob and Michelle Duggar made the gender announcement to the media on Tuesday. The 19 Kids and Counting stars waited until their wedding night to "do the deed" and managed to conceive a child almost immediately after their wedding.
Jill and Derrick have been very outspoken with their pregnancy, creating the Instagram hashtag #babydilly and keeping their fans up-to-date on all of the baby news. Jill said that three of her siblings were in the exam room when the baby's gender was revealed. (Nothing in this family is done alone. I'm surprised Jim Bob wasn't sitting outside the bedroom door when the baby was conceived!)
"Oh yes, there was some screaming in the room," Jill, who is 18 weeks along, told People. "I thought all along we were having a girl. Everyone made their guesses."
Jill said she thinks Baby Dilly will be tall like his father, because "he stretched out his legs full length" during the sonogram. Derrick, 25, added that he was happy with the news.
"As a new dad, to have a firstborn son to be our first born child and be a leader to his siblings, it's very special," he said. (Apparently girls can't be leaders in this family…)
Jill said while they do plan to follow in her parent's footsteps by having a lot of children, they do not plan to follow the "J" name trend their parents created. All of Jill's 18 siblings have names that start with "J" and all three of her brother Josh's children have names that start with the letter "M."
Jill said while they won't be doing the letter theme, they may do some other theme, like family names. Here's to hoping they name their son Jim Bob, Jr., which, while funny, may not be completely far off. If the couple plans to use "family names," Jill just might end up birthing a Jim Bob. After all, both her father and grandfather have that name, and Jim Bob did not give any of his own sons his name.
Other possible names the couple may use if they are choosing family names include Garrett (which was the name of Michelle's father, as well as her brother), Hardin (which was Michelle's mother's maiden name), Rick (the name of Derick's late father), George (which was Derick's mother's maiden name), or Norman, which was Derick's grandfather's name.
(Photo: Twitter)