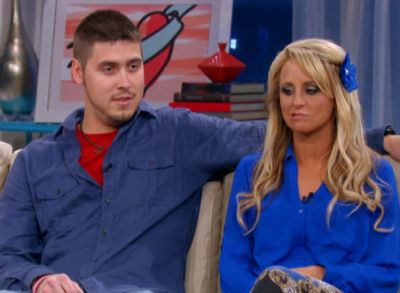 Teen Mom 2 star Jeremy Calvert has remained silent on Twitter in the days since he dropped a bombshell on his wife, Leah Calvert, and accused her on Twitter of cheating on him with her ex-boyfriend Robbie Kidd. (To be fair, he did make a few random tweets about Nickelback in the last few days but…silence would have been better. Who likes Nickelback anymore?)
Anyway, today Jeremy decided to stick it to his wife one more time (figuratively, not literally, as Robbie has allegedly been taking care of that lately.) In the early afternoon hours, Jeremy posted a photo of what appears to be his dirt bike loaded up onto his truck bed.  While it seemed he wanted fans to know that he was packing up his stuff and taking it away from the home he shares with Leah by posting the photo, his caption was even more telling.
"Bet he can't do this. LMAO You sure made a great choice. He can't even buy a big Mac," Jeremy wrote.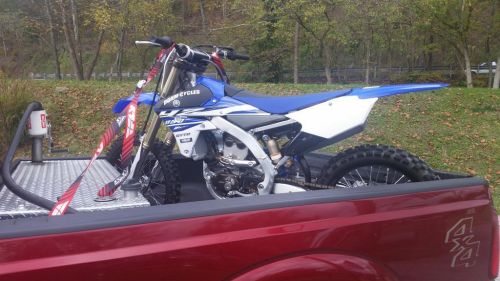 Obviously, this was referencing his wife's "choice" to allegedly do "the sex" with Robbie. Jeremy, who makes good money working as a pipe layer, was hinting that Leah's "new man" wouldn't be able to support her the way he did. (Robbie is reportedly employed, according to his Facebook profile; however that may not be current information. His recent drug-related arrest and its resulting methy-looking mugshot doesn't exactly paint him as a dignified career man.)
As The Ashley told you on Monday, Jeremy and Leah's marriage is over. According to The Ashley's sources, Jeremy has already filed for divorce. (The Ashley is waiting to get confirmation of this, however.)
The split is already Facebook official: Jeremy currently lists his relationship status as "Divorced" and has defriended his wife. (Leah is now "following" Jeremy's profile, however.)
Leah has also made some social media changes in the last 24 hours. She recently changed her Twitter profile background, which used to include a photo of her and Jeremy with friends. It now is a photo of Leah and her girlfriends. Her Twitter photo has also changed; it is no longer a photo of Leah and her husband. Instead, it now shows Leah's twin daughters.
Leah has yet to respond to Jeremy's latest tweet, but The Ashley will keep you posted on all of the latest drama!
Did you miss yesterday's Leah/Corey/Jeremy news? Click here and here for the latest on this hot mess of a situation!
(Photos: Twitter, MTV)