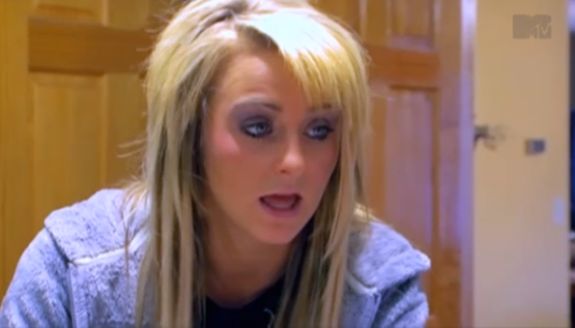 The Ashley has certainly been keeping busy this week! Keeping up with all of the drama surrounding Teen Mom 2 star Leah Calvert has become a full-time job! This morning, In Touch Weekly dropped a bombshell about Leah and her alleged drug habit. According to the magazine, which claims to have spoken to a person that Leah allegedly used to get her pill supply from, the 'Teen Mom 2' star was buying 30-40 painkillers at a time.
"She was withdrawing $1,000 a week to buy pills," the supposed dealer told In Touch.
While The Ashley can't confirm all of what the magazine wrote to be true, it does correlate to what The Ashley has been told by sources close to Leah. In fact, The Ashley became aware that Leah was allegedly using painkillers over a year ago. (She did not write about it, however, because she could not determine it was a fact.) Sadly, pill-popping is nothing new for Leah, according to a person that has known Leah since high school. The source tells The Ashley that Leah experimented with pills as early back as 2009.
"She was snorting Loratabs in '09 and messing with Oxy," the source told The Ashley in an exclusive interview.
Again, The Ashley must state here that all of this is information is according to a former friend of Leah's, whom The Ashley actually spoke with. The Ashley obviously did not see any of this take place, but this person claims that he/she did.
The source mentioned that Leah continued to casually use pills until about 2012, when her drug use allegedly intensified.
"She was doing two to six pills a day if not more in 2012," the source said. "It's only gotten worse. She has a Percocet problem that she covers up with a prescription. But just because she's prescribed 30-60 pills a month by a doctor doesn't make it OK to do hundreds."
The source said that he/she has obviously known about Leah's alleged drug use for years, as have most of her longtime friends and her family, but that they all have tried to cover for Leah.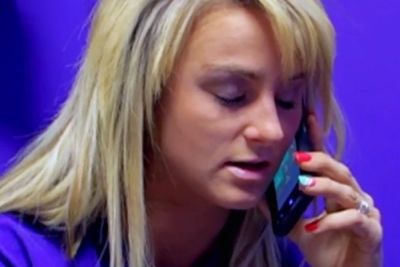 "I am not trying to slam her or embarrass her or anything. I honestly love her," the source said. "I am worried about her."
Several of Leah's friends and former acquaintances have gotten in trouble in recent years for drug-related crimes. For instance, Robbie Kidd, the man Leah is accused of having an affair with, allegedly has a history of drug use.
The source, who is also familiar with Robbie, said that he has used meth in the past (allegedly). While The Ashley can't confirm that the meth claims are true, she can confirm that he was arrested back in September for a drug-related offense. (The Ashley told you this back on Friday– check out Robbie's super-methy-lookin' mugshot!
"If Leah is hanging out with Robbie again, she's definitely partying," Robbie's friend Nathan Mullins told In Touch.
While there have been rumors that Leah has been doing meth, all sources have told The Ashley that this is false to their knowledge.
"Just painkillers and benzos," one person told The Ashley.
As The Ashley reported earlier today, Leah's 'Teen Mom 2' cast mates, as well as members of the show's crew, are worried about her.
Although it has been reported that Leah's husband, Jeremy Calvert, is also doing drugs, all of The Ashley's sources have said they do not know this to be true. Everyone The Ashley spoke with said that they do not think Jeremy abuses any type of drug, to their knowledge.
While he may not be doing drugs, he is doing something about his troubled marriage: Several sources tell The Ashley that Jeremy is totally done with this whole mess and will be filing for divorce. In fact, he may have already filed, but if not, he will do so within the next few days, sources say.
Further proof that the marriage is done comes via Twitter.  On Wednesday, Jeremy removed all traces of his marriage to Leah from his Twitter account. He no longer follows her and he has changed his Twitter photo, which used to be a picture of him and Leah, to a photo of his daughter, Addy. In addition, the wording in his Twitter bio, which used to contain a proclamation of his love for Leah, has all been erased.
Dun.Dun.Dun. It's Twitter official, y'all!
Not that it's necessary to include this, but just so y'all know–The Ashley did NOT pay the sources cited above to tell her this information. These people received no compensation (nor do any of The Ashley's sources, ever), so they had no reason to make this up for their own profit.
The Ashley will keep you updated on all the latest, but in the meantime, be sure to read all of The Ashley's other recent stories regarding the saga of Leah/Jeremy/Robbie by clicking here and here and here and here!
(Photo: MTV)