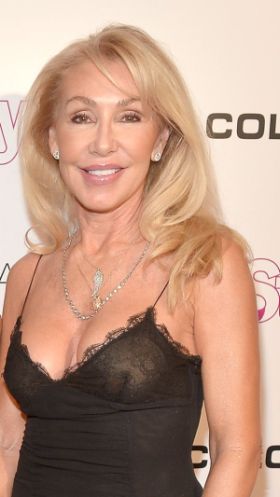 Linda Thompson may be the ex-wife of Bruce Jenner and the former girlfriend of Elvis Presley, but these days she gets recognized for her relationship with another man in her life.
"Now I'm known as Brody Jenner's mom!" she told The Ashley in an exclusive interview on the red carpet of last night's Life & Style Weekly 10 Year Anniversary party. "I've always been known for something– I've been "that girl from 'Heehaw'" or "Elvis' girlfriend" or "Bruce's ex" at different periods of my life, so I don't mind being known as Brody's mom at all! I don't have an exalted sense of self."
Linda, who dated Elvis Presley after he split from his wife Priscilla Presley in the early 1970s, later went on to marry Bruce in 1981 and gave birth to Brody and his brother Brandon (both of whom were at the party last night!)
"Brandon and Brody are the loves of my life," Linda told The Ashley. "Before them, though, it was Elvis."
Despite the fact that her sons make appearance on Keeping Up With the Kardashians, Linda says she rarely watches the show.
"To be totally honest, I've never watched the Kardashians!" she admitted. "I've never watched the show, except once in a great while when someone tells me I have to watch a certain scene with the boys in it or something, like the Thailand trip. It just isn't my thing."
Linda said that she's frequently asked to dish about Bruce and his soon-to-be-ex-wife Kris Jenner and their children.
"To be totally honest, I don't know anything about those people!" she said. "People just assume that we all just spend Thanksgiving together or something and that's just not the case."
In fact, Linda says, she rarely talks to Bruce at all these days; however that's nothing new.
"[Brandon and Brody] really didn't grow up knowing them very well either," Linda said of Bruce's second family. "I don't really speak to Bruce. Even when the boys were little I rarely spoke to him, so not a lot has changed! Of course, I wish him well. I'm grateful forever that he gave me the most beautiful gifts of my life, Brody and Brandon."
(Photo courtesy of Life & Style Weekly)