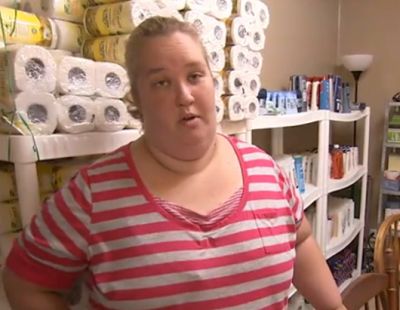 By Holly Rasmussen
There goes Honey Boo Boo! TLC has officially cancelled the hick-ish reality show Here Comes Honey Boo Boo, which follows child pageant queen, Alana "Honey Boo Boo" Thompson and her redneck family.
The cancellation came after TMZ uncovered photos of Alana's mother, June Shannon, in bed recently with a convicted child molester. The man in the photos is June's ex-boyfriend, Mark McDaniel, whom was recently released from prison after serving 10 years for molesting an 8-year-old relative of June's.
After the photos were released, TLC issued a statement to TMZ, stating that, in light of the photos, it was "very concerned" and that it was "reassessing the future of the series."
On Friday, the network told TMZ that they were done with 'Honey Boo Boo.'
"Supporting the health and welfare of these remarkable children is our only priority," the statement read. "TLC is faithfully committed to the children's ongoing comfort and well-being."
While the ratings for the show have dropped recently, it was still a popular show. TLC is taking a big hit by cancelling the show, especially considering they have already taped this season and will be taking a loss on all of those of episodes that will never run.
June maintains there is no relationship. After posting a statement to her Facebook page last night claiming she left Mark 10 years ago, June then posted a creepy, dark video to her fan page.
In the video, June says she would never endanger her children's welfare.
However, on Friday, TMZ dropped another bombshell on Mama June. In a story posted in the afternoon, the site claimed that June's daughter, Anna (aka "Chickadee"), had come forward and revealed that she was the eight-year-old girl that Mark was put in jail for molesting!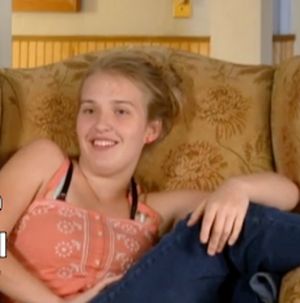 "Anna Cardwell — who is now 20 and married with a child — believed her mom earlier today that she was not dating the man who molested her," the site reported. "But we're told Anna has now received a lot more info, and is now convinced June betrayed her by seeing McDaniel again.
Apparently, Anna has come forward as the victim because she is so angry at her mother for dating her alleged molester.
"We're told Anna feels her relationship with her mom has been destroyed, and the only way June can see her granddaughter is if McDaniel is nowhere to be seen," TMZ reported, adding that TLC has offered Anna counseling.
When the news of June's relationship with Mark broke, one of June's other daughters, Lauryn (aka "Pumpkin"), told Radar Online the story isn't true and that the photos posted by TMZ must have been photo-shopped.
"My mom left Mark 10 years ago," the 14-year-old said. "They haven't seen nor talked [to each other] in 10 years."
Lauryn has not commented since the news about Anna broke.
Let's hope the Thompson/Shannon clan goes back to mud wrestling, burping, eating Cheeto puffs and farting as a family and keeps away from this convicted child molester!
(Photos: TLC)