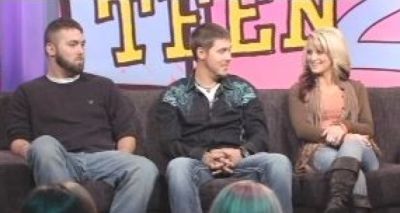 Before we begin, The Ashley would like to make it clear that she has heard the following information from at least three different sources; however, she would still like you to file this under "well-backed speculation" until more details become available.
Anyway, it's been over a week since Teen Mom 2 star Jeremy Calvert called out his wife, Leah, on Twitter for alledgedly cheating on him with her ex-boyfriend, Robbie Kidd. Since then, The Ashley has kept y'all posted on all the HeeHaw-esque hijinks of Leah, Robbie and Jeremy. (In case you need a refresher, though, click here, here and here.)
The Ashley has spoken to with several people with ties to the Calvert clan, all of whom have painted the same story: Jeremy is over it and is filing (or has already filed) for divorce from Leah. What's more, Leah's ex-husband, Corey Simms, is involved in the drama, despite the fact that he has remained completely quiet online about his ex-wife's hot-mess-of-a-marriage.
Leah has been strangely silent over the last week on social media, despite the fact that in the past she has used her Twitter and Facebook accounts to deny and clear up rumors that have been posted about her. (Her silence is rather deafening in this case, no?)
On Monday, however, she broke her Twitter hiatus to post a tweet that proclaimed her love for Jeremy and make fans aware that they are still together and everything is just rosy. While most fans didn't buy Leah's "happy family" tweet, it was Jeremy's lack of response that was even more telling.
The Ashley has confirmed that Jeremy has not yet filed for divorce in his county, nor the surrounding counties as of Monday morning.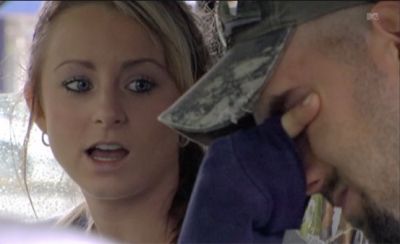 Both sources tell The Ashley that it was actually Corey who called Jeremy to inform him of what his wife was allegedly doing with Robbie Kidd. Jeremy had already heard the rumors around town and Corey confirmed them. Of course, Corey knows firsthand how it feels to hear around town that Leah was cheating on him with Robbie, since, as we 'Teen Mom 2' fans got to watch a few seasons ago, that's exactly what happened to Corey.
Although Jeremy and Corey appear to be at odds during recent episodes of 'Teen Mom 2,' a show production source has told The Ashley multiple times that both Corey and Jeremy are easygoing guys who generally get along. Leah, however, is the root of all of the drama, the source said.
In fact, Jeremy and Corey have bonded over Leah's recent alleged betrayal of Jeremy. One source tells The Ashley that Jeremy is actually using the same lawyer as Corey! (As y'all know, Corey is in the middle of a custody battle with Leah over their twin girls. The next hearing for that is scheduled for December.)
"Jeremy and Corey have met up and both really want to make sure the twins and Addy stay in each other's lives, regardless of what happens in the custody hearing," the source said.
Jeremy will  soon face his own custody battle with Leah over Addy.
"If minor children are involved in the divorce, you and the other parent must attempt to agree on a Joint Proposed Parenting Plan, unless your or your children's safety and well-being would be put at risk," according to the West Virginia Petitioner's Divorce Packet.
It's not known where Jeremy is staying at this point. It's unlikely that he's staying at his parents' house, due to the fact that the modular home he had been sharing with Leah and the girls is actually on Jeremy's parents' property! While Leah and Jeremy did, in fact, move into an apartment in Charleston, West Virginia, as viewers saw on the show, their stay there was short-lived. MTV did not make it known that the family then moved to a place on the Calverts' property. (MTV, of course, paid for them to break their lease at the apartment complex, the source says.)
Leah's sister, Victoria, confirmed that Jeremy, Leah and the girls have been staying on the Calvert's property during her strange radio show call-in interview last week. In fact, Victoria mentioned that fateful night in which Jeremy's dad ran out in his underwear and screamed at Leah after he claimed to have seen Robbie sneaking into Leah's house via the deercam. (Again, The Ashley couldn't make up this level of a HeeHaw soap opera if she tried!)
Victoria claimed that Jeremy's dad thought he saw Robbie sneak in, but it was actually Leah's brother, Isaac Messer.
"Me and my sister and my brother were all helping my mother move," Victoria said on the radio show. "When we came back and it was about 1 o'clock in the morning…Leah lives near [Jeremy's] mom and dad. We pulled in and my brother had to stop for gas so he came in a little later than we did. Well, Jeremy's dad got upset and he ran outside on his porch in his underwear. Well, my brother got freaked out and went to the side door and I let him in the side door. Then [Jeremy's dad] tried to say that it was Robbie sneaking in to the side door of the house and that he seen him on the deer cam."
One thing Victoria failed to mention is that Robbie is actually roommates with Leah's brother, Isaac, so he very well could have been at the house that night assisting. Either way, Robbie's name just didn't drop out of nowhere; Leah had been spending a lot of time with him lately. This was also confirmed by Victoria during her radio interview.
As The Ashley told you in previous posts, one very good Calvert source claims that Leah did, indeed, admit the alleged affair to her husband after she was questioned by him.
Anyway, The Ashley will keep you updated on any news!
(Photos: MTV)