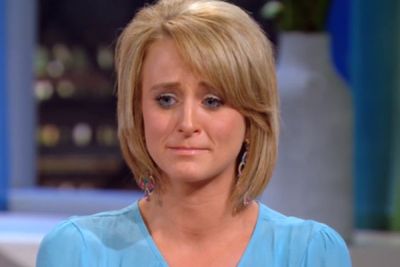 By Holly Rasmussen
There's more drama up in the mountains of West Virginia, y'all, and this time, it's from Teen Mom 2 star Leah Calvert's grandmama! Leah's granny, Sandy Kay, is the latest Messer family member to speak out about the Robbie/ Leah/ Jeremy cheating scandal.
Sandy, who we've seen several times on 'Teen Mom 2,' watching the "girlses," took to Facebook today to give her granddaughter some advice. (Apparently in the Messer/Calvert family, you don't call or text your family member when you want to tell them something; you simply jump-start that dial-up connection and post whatever it is you want to say on social media!)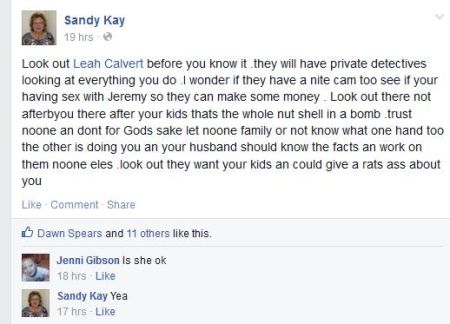 We've done our best to decipher Sandy's rant. In her post, it appears that Sandy is warning Leah not to speak about her marital troubles with anyone, not even family (lest they blast your problems on Facebook). Maybe we should give the Messer family a lesson in irony. Grandma Sandy is telling Leah not to talk about her problems with family and to trust no one because they will all sell her out…while she's blabbing about it on Facebook!
Ding, dang I just…can't….
Last week, Leah's sister, Victoria Messer, went on a radio show and said everyone needed to stay out of Leah's business…while she was blabbing about Leah's business on the radio show.
Grandma Sandy is also very paranoid about people wanting to take Leah's kids. She states twice in the rant that "they're after Leah's kids." Sandy did not, however, state who it was exactly that was "after" the "girlses" and what it was exactly that they wanted to do to them. It was all very strange…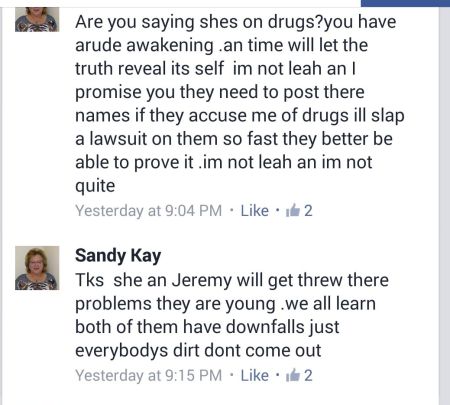 Sandy seems to think Leah and Jeremy will work their problems out and denies that Leah is on drugs. But from where we're sitting, it doesn't look good for the couple. Jeremy no longer follows Leah on social media and he has changed his Facebook status to "divorced."
We'll leave you with what is most definitely the best line from Sandy's rant.
"I wonder if they have a night cam to see if you're having sex with Jeremy," Sandy wrote jokingly. (We hope it was a joke, anyway!)
The deer cam legend lives on, y'all!