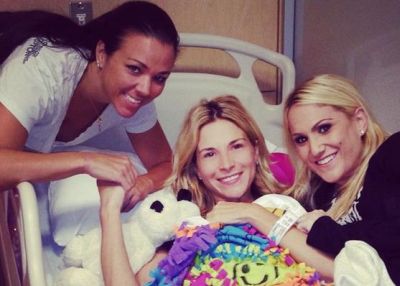 Diem Brown, star of MTV's The Challenge, is in the middle of her third battle with cancer and it seems that she just can't catch a break. After she became unusually silent on social media over the past few weeks, her fans began to worry that Diem's health had taken a turn for the worse.
Today, the reality star confirmed to People that, unfortunately, that's exactly what has happened. According to Diem, the cancer that is in her stomach and colon has now spread to her liver and lymph nodes.
The additional cancer cells were discovered by Diem's doctors while they were performing a surgery on her kidneys on October 13. Diem told People that she took the news extremely hard.
"That was a shocker to me," she said. "I was blown away. It really crushed a little bit of my spirit."
Diem says she has endured a few painful procedures this month, in addition to starting on a brutal chemotherapy cocktail that she hopes will help save her life. The pain it brought, however, was horrible, she said.
"I was just a zombie. I kept getting worse, and I felt like it would never end," she told the magazine. ""I've never had a reaction to chemo the way I just had with this one."
Despite the dark days she's had this month, Diem remains positive. Even though her cancer has spread, she is is still determined to fight the disease.
"My goals are something I believe in, because I believe I'm going to make it," she said. ""I'm going to have a family and get married and the whole American, 2½ kids, white-picket-fence dream. It's something that's really important to me, because it means a long-term future."
Diem said her pain level has drastically improved in the past few days, which gives her hope.
"It's a complete 180. It reminds you that when you're at your lowest moment, the turnaround could be the next day," she said. "You never know what the next day could bring."
Diem's family, as well as her friends from 'The Challenge' have been helping her through her battle. Her ex-boyfriend, CT Tamburello, has visited her and offered his support, and several other cast mates have been working to raise money for Diem's medical bills and living expenses.
To donate to Diem's fund, click here!
(Photo: Instagram)