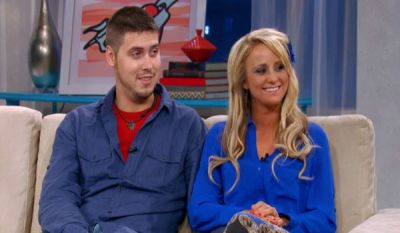 The Jeremy and Leah Calvert relationship saga continues, y'all!
For weeks, Teen Mom 2 star Jeremy Calvert has made it quite clear that he is done with his wife, Leah. After accusing her of cheating on him with Robbie Kidd (her ex-boyfriend and frequent diddle partner during her marriage to Corey Simms).
Jeremy called Leah a bunch of names, unfollowed her on all social media and basically ignored her online proclamations of love and devotion toward him. According to all of The Ashley's source, Jeremy was done with Leah and was preparing to divorce her.
Until yesterday, that is…
Yesterday Jeremy, who had previously changed his Facebook status to "divorced," took to Facebook to declare that he is currently "in a complicated relationship." He also refollowed his wife on Twitter. In turn, Leah refollowed Jeremy on Twitter.
It's a strange turn of events, for sure. It is not yet known what caused Jeremy to have a change of heart toward his wife; however last night her alleged "mistress" Robbie went on a blog radio program to discuss what happened between him and Leah. Robbie still maintains that he did not hook up with Leah  (at least, not since she and Jeremy have been married). To see what else Robbie had to say, click here!
Anyway, The Ashley will update this when she has more info. As of now, however, Leah and Jeremy still haven't signed on for 'Teen Mom 2' Season 6!
UPDATE: Leah, too, has changed her Facebook status from "Married" to "It's Complicated."
(Photo: MTV)