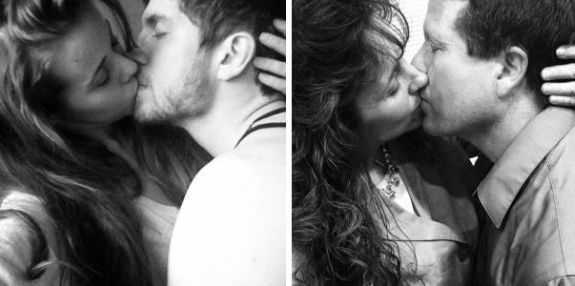 Jessa Duggar and her new husband Ben Seewald have been surrounded by controversy since their wedding on November 1. The couple first starting getting criticism on November 5 after Jessa posted a steamy black-and-white photo of her and Ben kissing to her Instagram account, along with the caption, "It's great living life with your best friend!"
While the photo is hardly softcore p0rn, it is scandalous by Duggar standards. Jessa and Ben, who waited until their wedding ceremony to have their first kiss, were criticized for posting the photo, and were later hit with a tabloid report that they had "consummated their marriage" (aka gotten freaky) in a private room at the church right after their wedding ceremony.
The Ashley did not write about this report because 1) it was ridiculous and 2) the tabloids did not seem to realize that the blog they pulled the report from  is a satire blog.
The comment on the blog post was meant to be funny, but was taken as fact by the tabloid sites.The blogger has even issued a statement saying that the commenter that wrote about the sex-in-the-church thing has been outed as a fake. Yet, people still continue to take this story as fact. Had the writer of the original tabloid report even bothered to read any of the other posts or comments on the blog, they would have realized that the blog was not real.
Jessa did not directly address the rumor, but later posted a Bible verse that talked about not avenging those that do evil. (For the record, The Ashley feels bad for Jessa and Ben. They certainly did not deserve to have such a disgusting rumor put a stain on their wedding and honeymoon, especially since they actually did what they said they were going to do and remained pure until they were married!)
Anyway, Jessa's parents, Jim Bob and Michelle Duggar, issued a statement today about the whole situation. It appears that they are talking about the kissing photo controversy, but may also be addressing that sex-in-the-church rumor as well.
"God designed marriage to be a loving, dynamic relationship between a husband and wife for a lifetime," the Duggar parents wrote on the family's official website. "God loves marriage and it is supposed to be full of love, joy, fun and romance. Marriage is where romance belongs! Recently, Ben & Jessa received some criticism for posting a kissing picture. We are so grateful they waited to share their first kiss until after marriage. We've been married 30 years and are still in love! We had fun trying to duplicate Ben and Jessa's happily married kissing picture."
Of course, Jim Bob and Michelle are never ones to shy away from stealing their children's spotlight, so they, too, took a black-and-white photo of themselves kissing and sent it to Jessa. She later posted it to her Instagram.
"My parents texted this picture!" she wrote. "This year marks 30 years of marriage and they're still in that 'honeymoon' stage. It's great to see older married couples still so madly in love!"
Of course, Jessa's older brother Josh and his wife Anna also had to get in on the kissing photo fun and post their own photo. It's only a matter of days before Jessa's sister Jill posts one of her and her husband, Derick Dillard.
Jessa and Ben are currently honeymooning in an unknown location. Their honeymoon will reportedly last a few weeks, so we can expect a pregnancy announcement by December!
(Photos: Instagram)