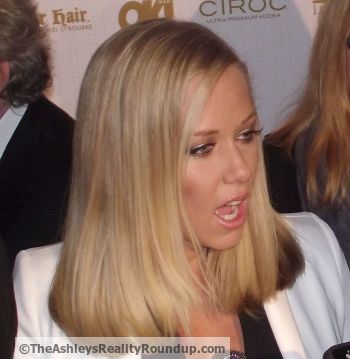 By Holly Rasmussen
The saga of Kendra Wilkinson and Hank Baskett's relationship status continues! Just a few days ago, Kendra was professing her love for husband Hank, despite rumors of his affair. Kendra told Access Hollywood that she and Hank were going to be "together forever." Well, forever didn't last long, apparently.
Kendra is now claiming to be single…sort of. News broke yesterday that Kendra has landed in Australia, without her wedding ring, to film another reality show. Really? Is this really what you need to be doing right now, Kendra?
The show, I'm a Celebrity Get Me Out of Here, is a reality television game show in which reality stars live together in a jungle. Much like the show Survivor, contestants have to meet a series of challenges and can be voted off. (Kendra's laugh alone should be enough to get her voted off first.)
In the past, the show has hosted such serious television "stars" as Heidi Montag and Spencer Pratt. Kendra should fit right in.
After arriving in Australia, Kendra spoke with Dish Nation and said she's single now and could be looking for love again. Wait. What? She just told Access Hollywood she would do whatever it took to save her marriage. What is going on?
Kendra told Dish Nation she wasn't ruling out finding love in Australia.
"I don't know what I'd do if there is a Tarzan in there who wants to sweep me off my feet," she said. "I'm quite picky about men. I do like a British accent though."
Anyway, Kendra revealed that she's never actually watched an episode of the show (who has?) but she's excited for the physical and mental challenges it presents.
"I'd love to be the jungle queen. I might even catch some jungle fever," she said. (Umm?!?!?!)
So, who's watching her small children while she's gallivanting around the jungle looking for a man in a loin cloth? We can only hope the almost 5-year-old and six-month-old are being cared for by the nanny because Kendra and Hank are clearly a couple of hot messes. Kendra claims she will miss them, though.
"I'm going to miss the kids the most. I feel like I've been gone for a year already, but it's only been one flight," she said.
Fans can't help but wonder why Kendra would leave her kids at such a critical time. Baby Alijah is only six months old. Was doing another reality show really necessary?
This story keeps getting better. A day after Kendra's Dish Nation interview, her rep told Us Weekly that Kendra's quotes were taken "out of context."
So…basically…WeTV and her reps are angry that Kendra revealed too much in her interview and are trying to explain away the quotes. The lady was talking about having jungle sex with a person she meets out there, people! Come on!
"She said she was single 'for the time being here' in Australia — physically apart from her husband and kids," the rep says in a statement to Us. "Kendra and Hank continue to work on their marriage. Nothing has changed."
To read the recaps of this season of 'Kendra On Top,' click here!