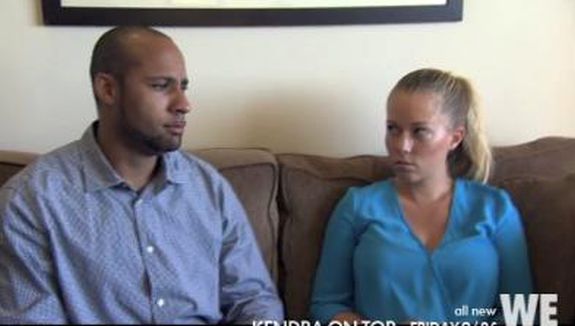 Note: The Roundup's 'Kendra On Top' recapper, Holly, was busy giving birth to a baby when this aired last week. She's back now, so here's the recap of the season finale!
By Holly Rasmussen
It's the season finale of Kendra On Top, which means we will (hopefully) learn "the truth" about what happened with Hank's alleged affair. As you may remember from the last episode, as soon as Kendra got home from visiting her dad in Costa Rica she found out that her mom, Party Patti, once again sold her out to the media. Patti apparently got mad that Kendra decided to go visit her father so instead of discussing the issue with her daughter like a normal person, she took to social media to say Kendra betrayed her. Of course she did.
Anyway, once Kendra gets home from her trip, she finds out that her manager wants her to meet with a producer from Australia to get involved with some television shows there. She says she has to do this because she has "mouths to feed" and…God forbid she actually has to get a real job.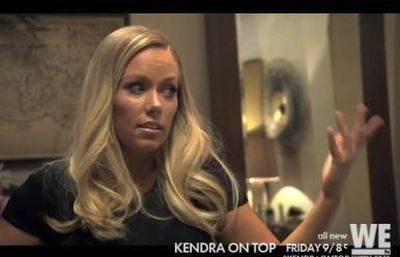 She starts watching some clips of the show online with Little Hank. Every other word on the clip is a curse word. That's a great thing for your four-year-old to hear. Hank will be the hit of his kindergarten class when he shows off the fun new vocabulary words he just learned!
The next day, Kendra goes to meet with the Australian producer. The producer tells Kendra that everyone in Australia goes crazy for her and her family. Kendra says she's down to go Down Under. The producer asks if her family would want to come with her but Kendra says she thinks it would be better for them to stay home so she can "focus on her priorities."
Because, of course, your small children aren't your priority.
Hank and Kendra decide to go to another awkward session of couple's therapy. While waiting for the therapist, Kendra learns Party Patti is at it again. This time, Patti has sold the story about Kendra "betraying" her. She told the tabloid she was there for Kendra when she needed her but then Kendra pushed her away. What is your deal, Patti? I'm beginning to think your soul is as terrible as your hair. What kind of mother sells her child out to the press every chance she gets? Kendra says, it's like she cried on her mom's shoulder and she sold the tears. Wow. That's actually pretty deep thinking for Kendra.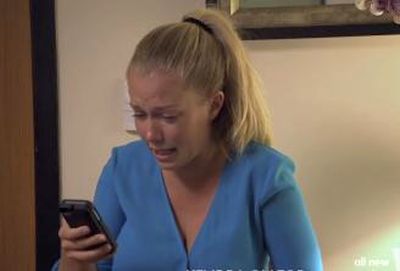 After dealing with the Patti drama in therapy, they go on to talk about their marital issues. Kendra again reiterates that she wants "the truth." We all do, Kendra. We all do. We've been watching this show for how many episodes now? We want to know what happened! The therapist recommends they go on a date night to reconnect. Or give this episode a storyline, whatever.
They agree to go on the date. Hank comes in with a dozen pink roses and Kendra is wearing her wedding shoes. Something is up. The producers must have something planned. This isn't just a normal date.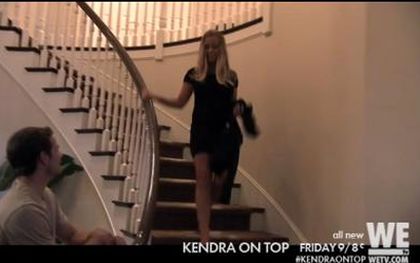 At the restaurant, they order and neither of them can even remotely pronounce what they're ordering, which brings the LOLs. They talk about "the truth" and rebuilding their relationship some more. Yawn. We've heard this a million times.
Then, Hank pulls out a ring and asks Kendra to be his best friend again. He gives her a yellow diamond because he says it stands for friendship and he wants to rebuild their friendship first. Ok. That actually makes sense. Good job, Hank. Kendra says she'll only accept the ring if he tells her what happened. Yes. Finally. Tell us what happened!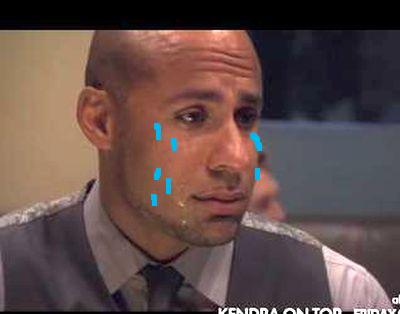 And of course, he doesn't tell us what happened. He just says he "messed up." We know, dude. We want to hear the details. We've put in a lot of hours watching you talk in code and cry, we deserve the truth!
Kendra says the truth and his honesty is more valuable than a ring…but then she asks him how much the ring cost. Of course she does. Maybe she's trying to gage how much she could pawn it for so she won't have to do any more reality shows.
She doesn't officially accept the ring, but she does ask Hank to move back to the house. I guess that's a step forward for them. At least they're finally making progress. I feel like we've watched an entire season of nothing happening. We never found out any details! Apparently the "untold story" will be told next week in a special. Let's hope we get some answers then.
To read more of Holly's 'Kendra On Top' recaps, click here!
(Photos: WeTV)